This summer marks the 10th anniversary of the announcement, memorandum issuance, and application-opening of the Deferred Action for Childhood Arrivals (DACA) program. This program, implemented across three federal administrations, protects approved immigrant youth from deportation and greatly expands their access to economic opportunity. Over the past decade, more than 135,000 DACA recipients in Texas have lived without fear of deportation, received employment authorization, been issued social security numbers, and gotten Texas drivers' licenses (for renewable two-year increments) as direct benefits of being DACAmented. 
DACA has opened up opportunities for significant educational, employment, and personal life improvements:
43.8% of recipients have seen pay increases with average hourly wages rising from $10.94/hour to $22.89/hour and average yearly earnings more than doubling; 

43.3% got jobs with health insurance; 

35.4% got jobs with better working conditions; 

37% secured jobs in line with their career goals; 

50.6% bought their first car; and

16.5%

bought

over 14,000 Texas homes (the most in the nation by far), among other countless qualitative

improvements

.
DACA has even reduced the citizen-noncitizen school attendance gap by 55% and graduation gap by 40% while encouraging 50.7% of recipients to pursue education pathways unavailable to them before DACA . Nearly 40% of DACA recipients have earned a bachelor's degree or higher. For these reasons and many more, DACA is a critical program that has benefited the lives and wellbeing of thousands of immigrants across Texas along with their families, loved ones, and communities.
The Texas Economy Benefits from the Contributions of DACA Recipients
DACA is a life-changing opportunity for young immigrant Texans, and the continued existence of this program benefits every Texan. The 101,340 currently active Texan DACA recipients have a collective spending power of $3.7 billion in our state, and their ability to work, earn, spend, and save has a distinct positive economic force, particularly in our recovering economy. 
DACA recipients are a tangible presence in our state's most indispensable public industries, including 4,300 health care workers and 2,800 teachers, and among 30,600 Texas essential workers. Texas DACA recipients annually contribute $782.7 million in federal taxes and $436.8 million in state and local taxes, much of which they are unable to recoup due to ineligibility for the vast majority of federal and state public benefits programs. If the DACA program ends, Texas stands to lose around $139.7 million annually in state and local taxes. The presence and contributions of DACA recipients in eight of Texas' largest metropolitan areas demonstrate the impact this program has on nearly every Texas community.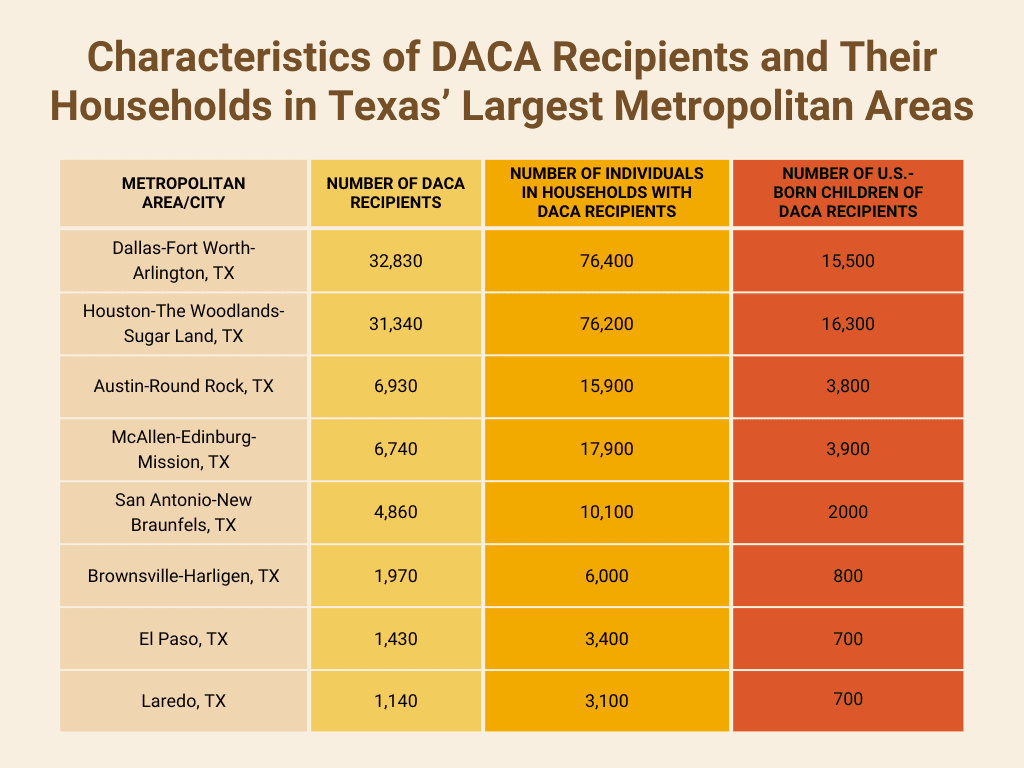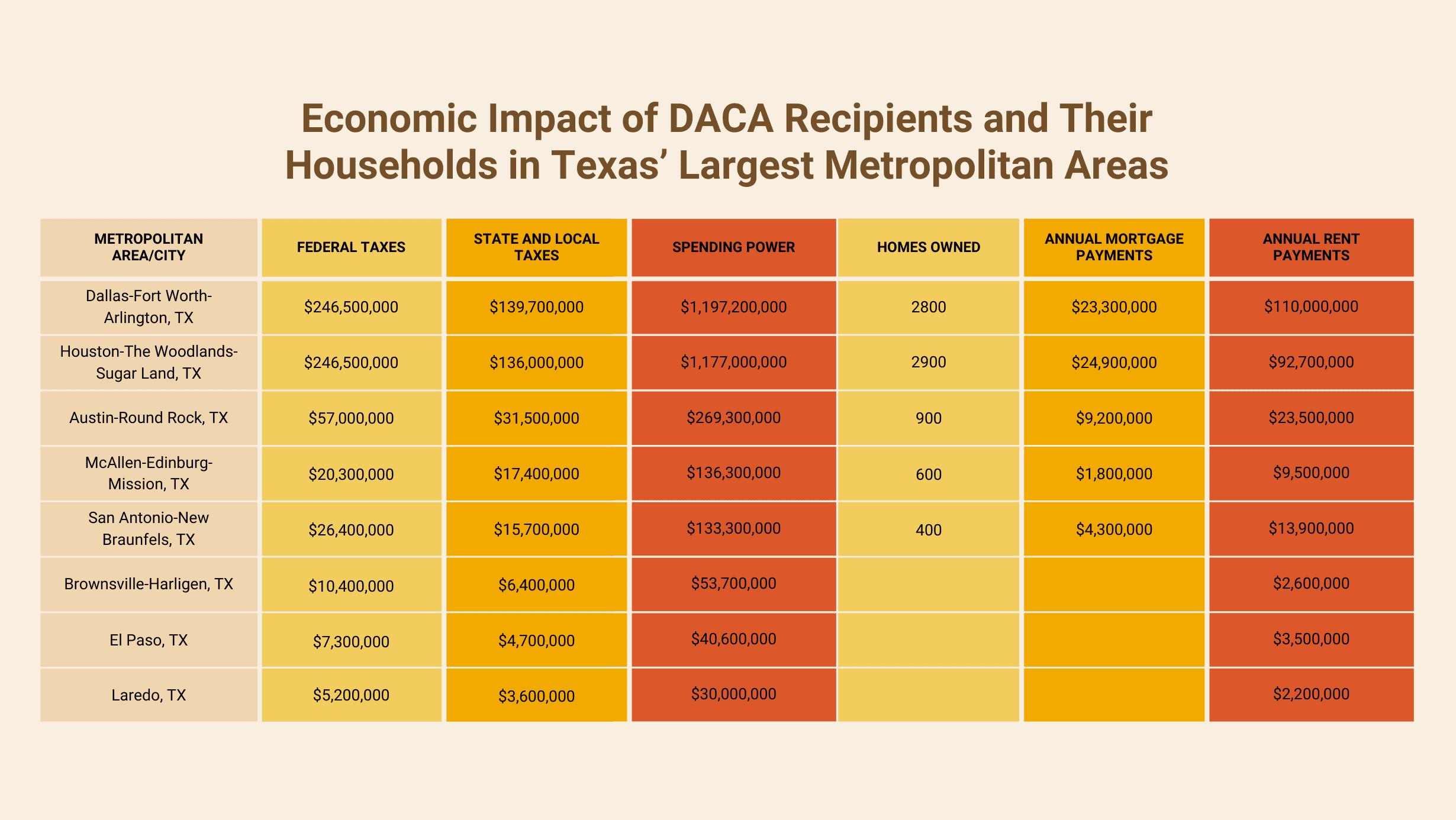 The Continuation of DACA Is Under Threat
Alongside immigrant communities throughout our state, Every Texan celebrates the resounding legacy of success and transformative impact DACA has brought to DACAmented Texans and their families. However, concerns for the program's longevity have grown over the past 5 years, exacerbated by the pandemic and the increasingly xenophobic political climate. DACA was never intended to be a perpetual immigration status for immigrant youth but, rather, temporary relief from deportation and a head start to greater economic opportunity until a long-term legislative solution could prevail through Congress. Now, a decade and two full executive administrations later, participation in the DACA program declines steadily quarter after quarter. The Department of Homeland Security (DHS) barred the approval of initial applications (or renewal applications from excessively expired inactive recipients) since the Trump administration's attempted rescission of DACA in September 2017. An order from the federal court of Texas' Southern District in July 2021 also barred initial applications following a separate order from New York's Eastern District federal court in November 2020, which ordered DHS to resume approval of initial applications. During the 6-month period between these court rulings, only 8,168 initial applications were approved out of nearly 95,000 that were received. As a result, DHS has been unwilling under the previous administration and then unable via court order to provide DACA protections to nearly any newly eligible immigrants for the past 5 years — while still holding a backlog of more than 83,000 applications in limbo pending decisions.
Number of Active DACA Recipients Is on the Decline in Texas
In Texas, the rate of decline of active DACA recipients has been 10.3% since September 2017, as 11,660 recipients have not had their DACA renewed. With a DACA-eligible population of 208,000 in our state, only 56% of DACA-eligible Texans ever applied for DACA to begin with — and now only 48.7% have active DACA status. Nationally, over the life of the program, 9.6% of recipients' permits have expired due to participants being unable or unwilling to renew (most likely due to the $495 renewal fee). Additionally, 9.2% obtained Legal Permanent Resident (LPR) status and 1.2% had their renewals denied.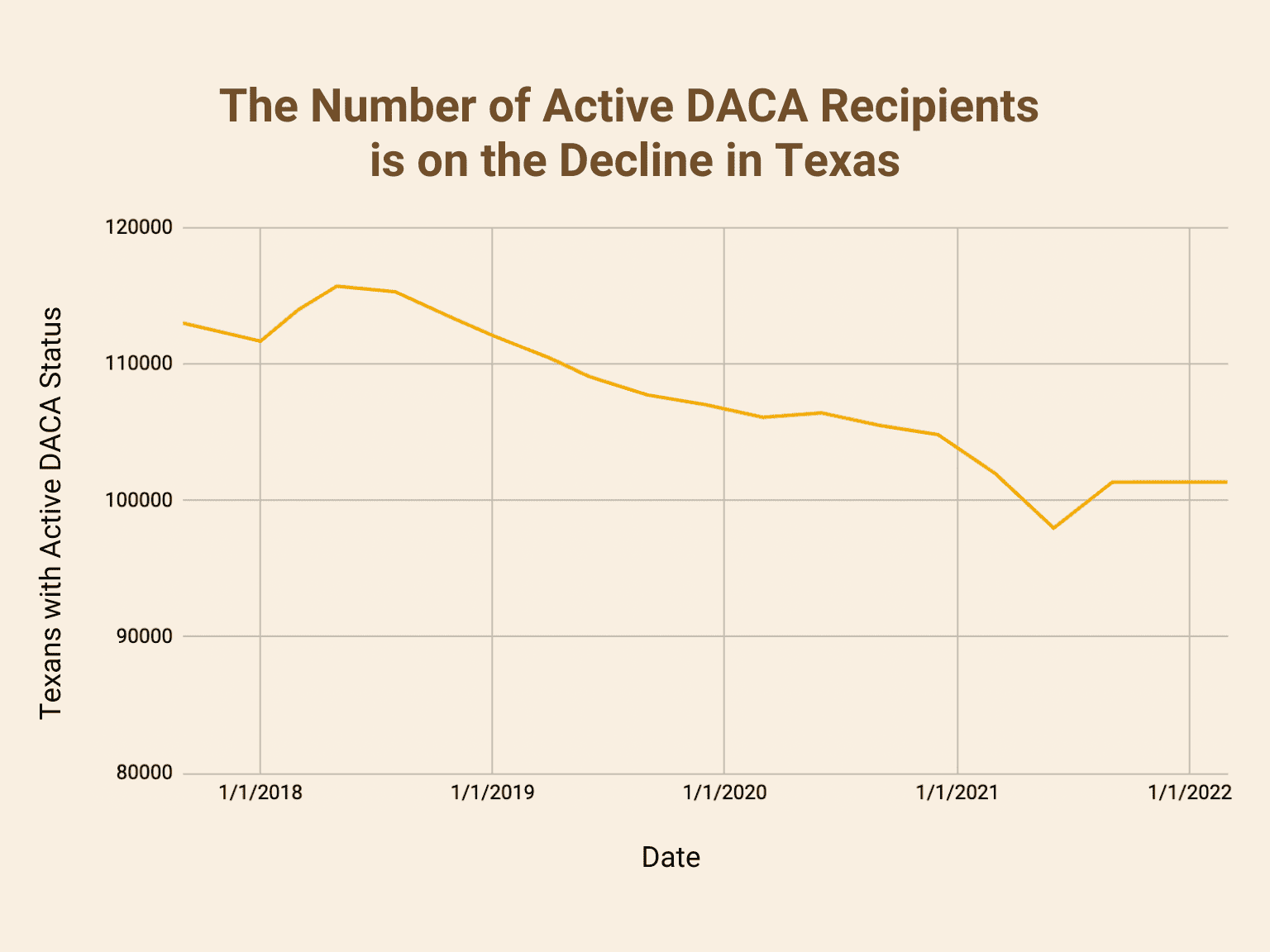 For immigrant youth, Generation Z may as well be known as the Post-DACA generation, as only 2.8% of current recipients nationally are between the ages of 16 to 20 years old. This year marks the final year in which it is possible to age into DACA eligibility due to the program requirements that: 
an applicant must be at least 15 years old; and 

they must have been continuously residing in the United States since June 15, 2007. 
Therefore, instead of having to meet only a 5-year continuous presence requirement when DACA was implemented in 2012, even if USCIS could approve initial applications, DACA applicants must now possess and prove 15 years of continuous presence in the U.S. because the June 15, 2007 deadline has never been adjusted. As a result, around 88% of Texas' K-12 immigrant students are ineligible for DACA solely due to the continuous presence requirement, having arrived in the United States after June 2007. 
Additionally, 75% of our state's 19,000 undocumented high school graduates in the Class of 2022 and 47% of undocumented students at Texas colleges and universities cannot meet the 2007 continuous presence criteria. For the past decade, an entire generation of their fellow undocumented alumni has been able to overcome barriers to entering the workforce and pursuing higher education. Now those same barriers to entry, threats of deportation, and dire uncertainty for their futures again resurface for this generation of largely DACA-ineligible undocumented students.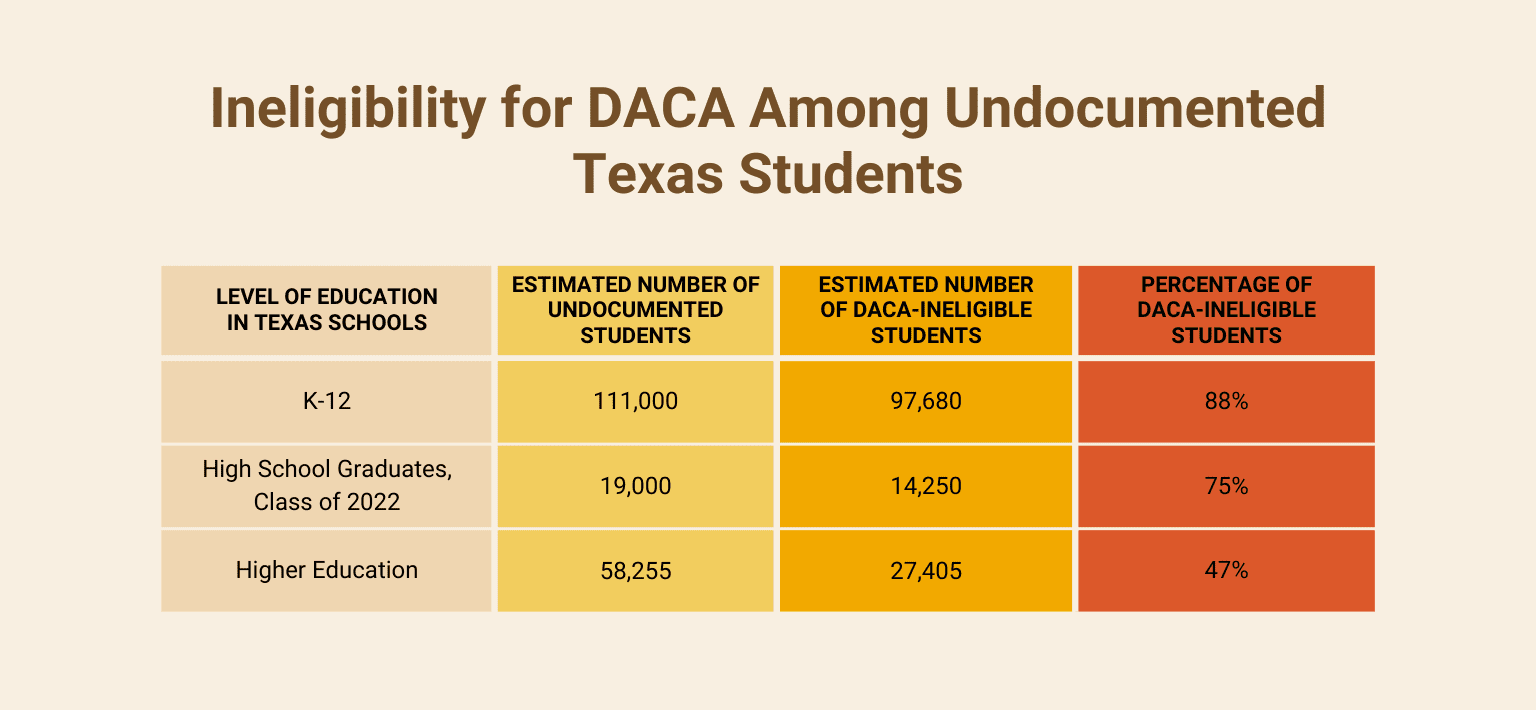 The Status of DACA Today
In July 2021, a federal district judge ruled that DACA's legal merits and existence as a program violated immigration law and thereby stopped DHS from approving initial applications. The judge also temporarily stayed parts of his decision to maintain DACA for current recipients while awaiting an appellate ruling and corresponding orders from the U.S. Court of Appeals for the Fifth Circuit.  
In an effort to amend the components of DACA the judge found to be unlawful, DHS published a final federal rule this August that codifies the definition of "deferred action," makes applying for work authorization optional and decouples the associating fees, and reiterates that DACA grants lawful presence rather than lawful status while maintaining the existing eligibility criteria. As is typical of proposed federal agency rulemaking, DHS also opened the changes to a 60-day open public comment period. 
In November 2021, Every Texan submitted this public comment to the Federal Register addressing the continued importance of keeping DACA in place in the absence of a legislative solution that protects immigrant youth. We also called for DHS to update the aging eligibility criteria to allow the current generation of undocumented students coming of age the ability to apply to, benefit from, and succeed with DACA just like the generation before them.