View more data about the diverse Hispanic/Latino population in Texas here.
Hispanic Heritage Month celebrates the cultures, histories, and contributions of Americans who trace their roots to Mexico, Spain, the Caribbean, and Central and South America. Many countries celebrate their independence during the September 15 through October 15 time period. In Texas, many folks trace their roots back to these countries. Newly released American Community Survey (ACS) data for 2021 estimates that in Texas, Hispanic/Latino people make up 40% of the state's population. It is estimated that by 2050, the group will make up nearly half of Texas's population with more than 20 million projected Hispanic/Latino people of all ages.
Who are Hispanic/Latino people in Texas?
The Hispanic/Latino population in Texas is diverse. Most Hispanic and Latino Texans identify as multiracial and come from varying backgrounds and cultures. A (limited) ethnic breakdown of Latino/Hispanic identities in Texas in ACS data reveals that 82% Hispanic/Latino Texans are of Mexican descent. The second largest subgroup of Hispanic/Latino Texans identify as Central Americans. Of those who identify as Central Americans, about two in five are Salvadoran. And of the South American group of Texans, 35% are Colombian and 31% are Venezuelan. The percentage of Hispanic and Latino Texans that identify as multiracial increased from 2% to 52% between 2010 and 2021. This increase in multiracial identity is coupled with a decrease in the number of Hispanic/Latino people that identified as white from 77% down to 21%. Nationally, the 2020 U.S. Census also observed an increase in multiracial Hispanic people. These trends reflect the growing racial diversity of Hispanic/Latino people in the U.S. and in Texas.
It is important to note that the standards that the U.S. Census uses to collect data on Hispanic/Latino people were developed in 1977 by the Office of Management and Budget (OMB). The OMB defines "Hispanic or Latino" as a person of Cuban, Mexican, Puerto Rican, South or Central American, or other Spanish culture or origin regardless of race. The 1977 standards for classification of race and ethnicity were revised in 1997, when the OMB rejected a recommendation to retain a singular term, "Hispanic," instead of "Hispanic or Latino." The choice to continue the use of both terms was significant, because it reflected the differences in how the terms might describe different populations geographically. With this in mind, we must note that much more work is needed by way of expanding how data is collected and disaggregated to reflect the various Hispanic and Latino identities, including Latinx, Latine, Chicana/o, and others. Recently, the OMB announced a new revision process to evaluate the standards by which race and ethnicity are measured, which could potentially impact the 2030 census. 
Hispanic/Latino Trends in Texas
Hispanic/Latino Texans are a young cohort. The median age of the Hispanic/Latino population in Texas is 29.9 years, and most are of working ages (18-64). According to the Williams Institute, 39% of LGBT Texans are Latina/o/e.
In terms of educational attainment, 18% of Hispanic and Latino Texans ages 25 and older hold a Bachelor's degree. In Texas, about 1 in 5 Hispanics and Latinos work in the educational services, health care, and social assistance industries.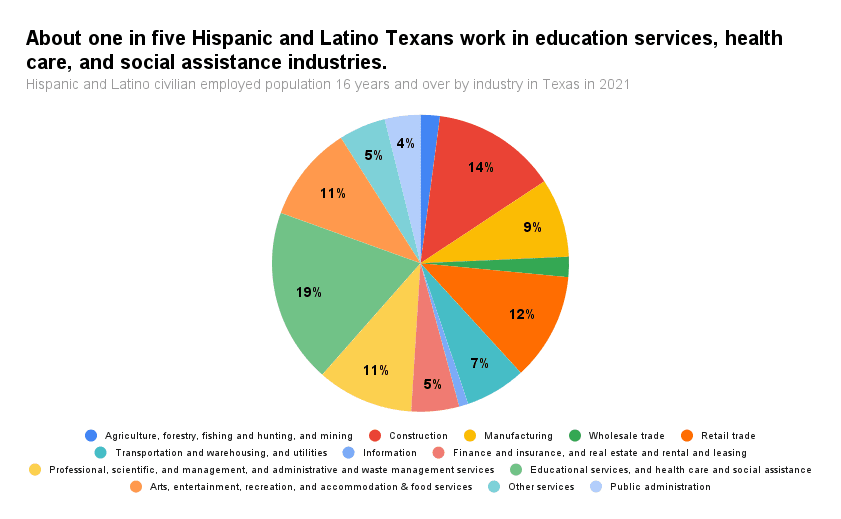 Hispanic/Latino people are an economic force in Texas and the United States. According to the U.S. Small Business Administration, 29% of business owners in Texas are Hispanic. That's nearly 800,000 Hispanic-owned businesses.
View more data about the diverse Hispanic/Latino population in Texas here.
Texans Need Policies that Reflect Demographic Shifts
With the demographic shift expected in Texas, our state must adopt policies that will ensure equitable health and economic outcomes for all Texans. State legislators need to make significant investments in public education and access to health care services. Medicaid expansion could help extend coverage to the 28% of Hispanic/Latino Texans who are currently uninsured. Finally, policymakers rely on the data that researchers and expert analysts collect from a multitude of reliable survey instruments, including those produced by the U.S. Census Bureau. As populations change, our methodologies should also change to ensure our data best reflects all racial and ethnic identities. The U.S. Census is currently accepting feedback and ideas to help make the 2030 Census more successful in reaching historically underrepresented communities, including Hispanic/Latino populations. You can submit your comments here.