View this testimony as a PDF here.
Every Texan (formerly CPPP) appreciates the opportunity to register support for HB 25 by Representative James Talarico.
The Benedictine Sisters of Boerne, Texas, founded Every Texan (formerly CPPP) in 1985 to advance public policy solutions for expanding access to health care. We became an independent, tax-exempt organization in 1999. Today, we prioritize policies that will measurably improve equity in and access to health care, food security, education, and financial security. We are based in Austin, Texas, and work statewide.
We strongly support adding Texas to the group of states (Florida, Colorado, New Mexico, Maine, Vermont, and New Hampshire) that have passed laws and submitted applications for federal approval of a state-level prescription drug importation program.
Witnesses today have presented several important reasons HB 25's program will benefit Texas. Every Texan wants to focus in particular on the flip side of the negative health impact when families skip medical care due to costs, i.e. accessing medically necessary care that patients cannot afford. Texas families need action from state leaders both to give relief from medical debt and to open up access to health care. Without direct attention to reducing working families' medical debt, generations of family asset-building work can be wiped away, and new generations may be unable to move up and ahead.
Texas is a national epicenter of medical debt. Texas has one of the highest U.S. rates of households with medical debt in collections. Of the nation's 20 most populous counties, three Texas counties top the list with the highest concentrations of medical debt: Tarrant County (Fort Worth), Dallas County (Dallas), and Bexar County (San Antonio), with Harris County (Houston) close behind in sixth place (Urban Institute, Debt in America, 2022).
Texans of color are disproportionately burdened by medical debt. In Tarrant County, for example, 17% of households in white communities have medical debt in collections compared to 30% of households in communities of color. Overall, one in three Texans report they have had problems paying medical bills in the last year, yet significantly more Hispanic Texans (41%) and Black Texans (38%) are likely to have trouble paying medical bills than white Texans (32%) (Episcopal Health Foundation, Texas Health Tracking Survey, 2022). The racial and ethnic disparities in medical debt perpetuate inequities in access to housing, financial stability, educational attainment, access to health care, access to credit, and overall opportunity to move ahead and prosper.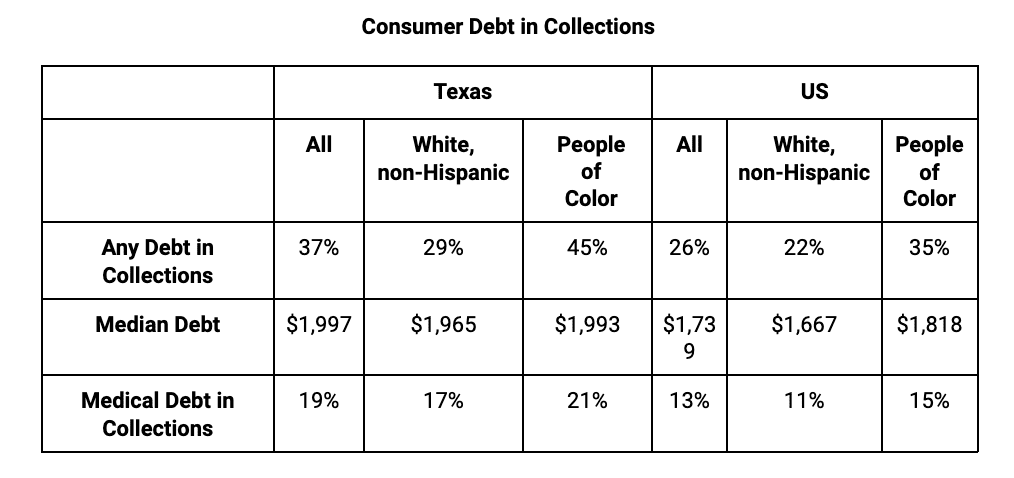 HB 25 will make a substantial contribution to reducing Texans' exposure to crippling medical debt. Every Texan encourages this Committee to pass it and send it to the full House. 
Thank you for considering our position. 
For additional information, contact Anne Dunkleberg, Senior Fellow at dunkleberg@everytexan.org.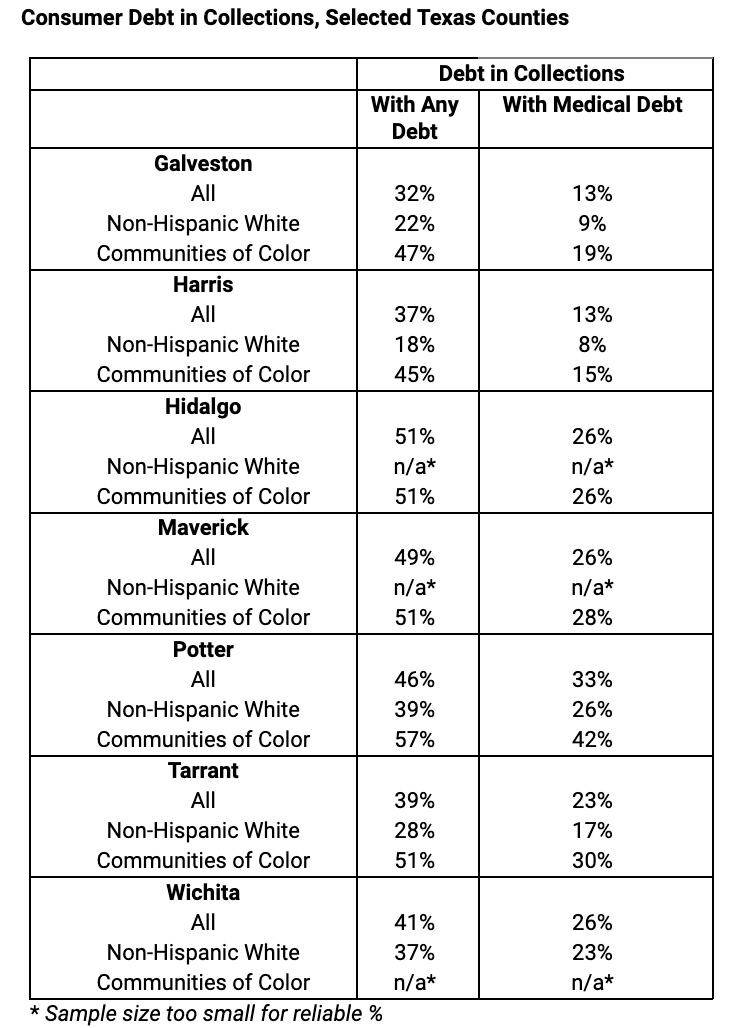 Source:  Urban Institute, Debt in America, 2022 – February 2022 credit bureau data, US Census Bureau's American Community Survey (ACS) 2019; (for areas with smaller populations and for metrics that incorporate zip code–level information, ACS five-year estimates (2015–19).