I was honored to present to the Get Covered Texas Statewide Advisory Committee at its annual stepback/debrief meeting following the Health Insurance Marketplace (HealthCare.Gov) Open Enrollment period. I'm grateful to our partners at Young Invincibles for leading the debrief. I provided a deep dive into state enrollment data, one of my favorite nerdy topics. 
Here are some of the key takeaways:
Marketplace enrollment reached a record high of 1.8 million Texans. Enrollment in Texas grew by nearly 550,000 people, a stunning 42%, from 2021 to 2022. Texas had the largest percentage increase in the nation. Record Texas and national Marketplace enrollment were driven in large part by Congressional action to temporarily

make coverage more affordable

.

Enrollment was up across the board, increasing proportionately from 2021 to 2022 across all incomes, ages, and sexes. 

About 94% of Texas consumers got financial help to lower their premiums, and they paid $60/month on average. Additionally, 38% of Texas consumers paid $10/month or less. 

About 3 in 4 Texans who signed up were returning customers, and 1 in 4 were new customers. 

Compared to last year, there was a shift away from enrollment in Bronze plans with higher out-of-pocket costs and into Silver and Gold Plans with lower out-of-pocket costs. This is not a surprise. In many counties, Gold plans were cheaper than Silver plans (for

good reasons

, even though the price difference isn't intuitive). Enhanced subsidies also meant many low-income consumers could get a plan that is technically "Silver," but with Platinum-like coverage for a $0 premium. 

Enrollment growth varied significantly by county. Some counties, like Bell, Cameron, and Hidalgo Counties, saw enrollment grow by more than 60% from 2021 to 2022. 
Curious about enrollment totals in your county? The Episcopal Health Foundation built an interactive map that gives 2022 Texas HealthCare.Gov enrollment data for every county in a user-friendly format.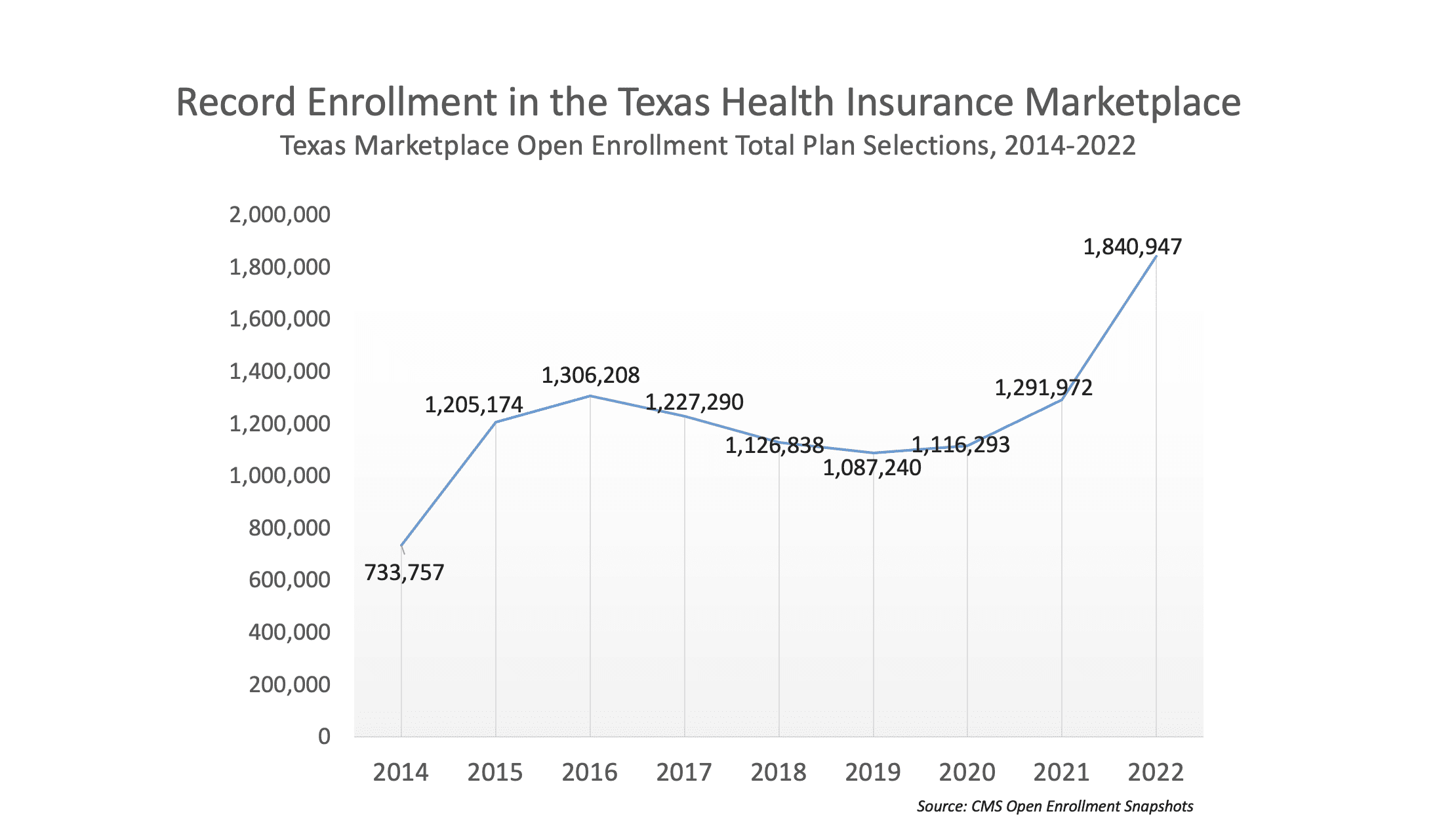 The Get Covered Texas Statewide Advisory Committee brings together leaders from health coverage enrollment assister organizations across the state to learn, share information, and improve outreach and enrollment in Texas. These trusted community organizations help uninsured Texans enroll in affordable health coverage through the Marketplace, Medicaid, and CHIP. They are certified as Navigators or Certified Application Counselor organizations by the Marketplace and generally also serve as Community Partner organizations with the Texas Health and Human Services Commission. 
An iteration of this group has been meeting since 2013, leading up to the first Marketplace Open Enrollment period, and I've been privileged to have been along for the ride since then. 
2022 Texas Open Enrollment slides are available here.