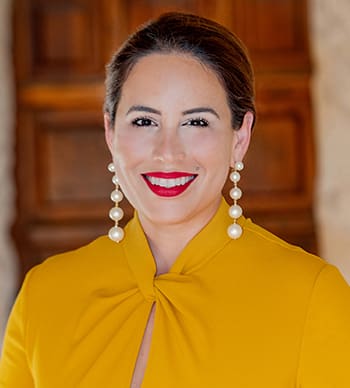 Marisa Bono | Chief Executive Officer
Lifelong social justice advocate and thought leader Marisa Bono joined Austin-based Every Texan as Executive Director in 2021. She is a licensed attorney and has specific policy expertise in social equity as it relates to education, immigration, voting rights, and political access. Marisa is the first woman of color to serve as Every Texan's Executive Director.
Marisa brings extensive experience as a civil rights lawyer and public servant. Earlier in her career, Marisa served as the Southwest Regional Counsel for the Mexican American Legal Defense and Educational Fund (MALDEF), the nation's premier Latino civil rights law firm. While at MALDEF, Marisa was a leading civil rights litigator and directed MALDEF's litigation and state policy agendas in the areas of education and funding, immigration, voting rights, political access and employment in the Southwest region. Her own docket focused on immigrants' rights and education impact litigation across a broad spectrum. Marisa represented both immigrant and U.S. Citizen families who were assaulted by vigilante ranchers in the Arizona desert, military veterans who were wrongfully denied education benefits by the State of Texas, and immigrants who were wrongfully denied drivers' licenses, housing, and in-state tuition.
Before coming to Every Texan, Marisa served as Chief Strategic Officer of VIA Metropolitan Transit in San Antonio, and where she successfully led an initiative to expand service for working families and low wage workers. Marisa joined VIA after serving as Chief of Policy for San Antonio Mayor Ron Nirenberg. In that role she advised the Mayor and oversaw the implementation of his policy agenda, including priorities related to transportation, housing, and education and workforce development.
Marisa has unique experience in the area of school funding, having tried school funding cases in Colorado, Texas, and New Mexico, where she challenged the inadequacy of school funding for low income and English Language Learner students. She was the first Latina to argue a school funding case in the Texas Supreme Court, and served as the lead attorney in Martinez v. New Mexico, a landmark school funding case where she represented over 50 low income and ELL students across the State in a nine-week trial. With her team she secured a final court ruling that education is a fundamental right in the State – the ruling is still good law today.
Marisa was born and raised in San Antonio. She has a law degree and master's degree in public policy from the University of Michigan, where she was Managing Editor of the Michigan Law Review. She holds a bachelor's degree in political science from Rice University.