New U.S. Census estimates from mid-September show slight improvements in the number of uninsured Texans from 2021 to 2022. Seventeen percent of Texans (an estimated 4.9 million) were uninsured in 2022, down from 18% in 2021 (an estimated 5.2 million). Despite this small improvement, Texas continues to rank worst in the nation for the highest percentage of uninsured people by a wide margin. The U.S. Census had to extend its range to even compare Texas to other states on this chart.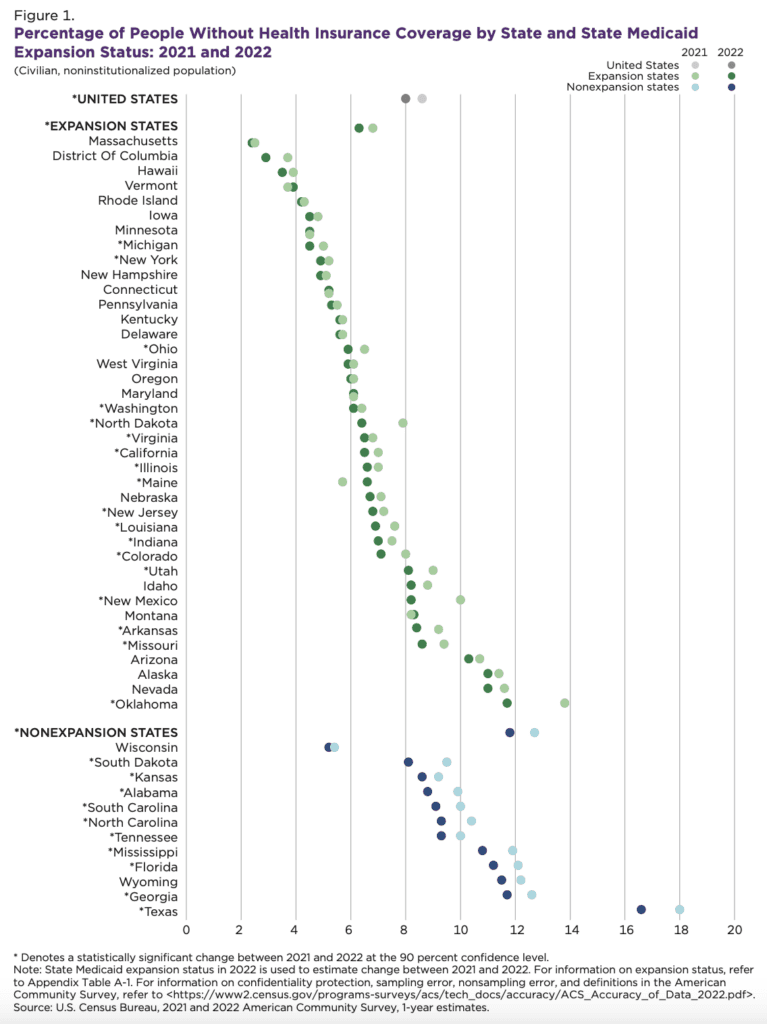 Federal Policies Slightly Lowered Texas' Uninsured Rate in 2022
Two federal policies kept Texas' uninsured rate from continuing to tick upward in 2022. Thanks to a federal relief package, Texas has had the highest year-over-year growth in Affordable Care Act Marketplace enrollment for each of the last three years. Marketplace coverage is generally available to individuals who do not have access to health insurance through their employer, Medicaid, or Medicare. In 2021, Congress passed a COVID-19 relief package that included enhanced subsidies for individuals seeking coverage in the Marketplace and extended these important subsidies as part of the Inflation Reduction Act in 2022. The subsidies have saved Texans in the Marketplace an average of $560 per year and will continue through 2025. Unfortunately, enhanced subsidies are not available for Texans caught in the Medicaid coverage gap (adults who earn too much to qualify for Texas Medicaid but too little to qualify for these subsidies). 
In addition to the financial support offered to Texans in the Marketplace, the federal protections put in place during the Public Health Emergency (PHE) ensured Texans enrolled in Medicaid could not be dropped from the rolls during the PHE. In April of this year, the Health and Human Services Commission (HHSC) began redetermining eligibility for every Texan enrolled in Medicaid.
Remember, this U.S. Census data is a 2022 snapshot and does not reflect the large number of Texans  who have been removed from Medicaid coverage since Medicaid "unwinding" began earlier this year, about 1.2 million and counting. Not all Texans who lose Medicaid are or will remain uninsured, though many likely remain Medicaid-eligible. The impact will likely appear in the 2023 U.S. Census data.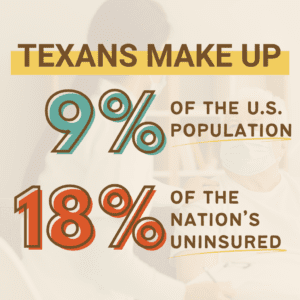 Health Insurance Coverage is Life-Changing for Texans
A  recently published poll by the Episcopal Health Foundation reveals that Texans are hurting from the lack of health insurance access in our state. 
Among Texan adults under 65, uninsured adults are more likely to skip or postpone some sort of health care treatment because of the cost (85%) compared to adults with health insurance (65%). 

Texans are much more likely to have a primary care provider if they have health insurance. A total of 66% of uninsured Texans under 65 say they do not have a primary care doctor or provider they usually see for regular check-ups, when they are sick, or when they need health advice, compared to just 21% of Texans with health insurance. 
In other words, uninsured Texans are three times more likely than insured Texans to try and make do without a primary care doctor or provider. The new poll is also consistent with  past research  showing that when people have insurance, they are healthier and less likely to die prematurely. 
Not only do people with insurance have better access to care, but also  protection from financial strain in the event of illness. Coverage bolsters financial security and peace of mind while also allowing greater access to specialty care. Uninsured individuals might have access to a community clinic for primary care, for example, but these providers typically do not offer specialty care services like cancer treatment, surgeries, or any in-patient care or hospitalization. Many safety-net providers simply can't keep up with current demand, and this will likely get worse as more Texans lose coverage during Medicaid unwinding. 
Texas 2022 Data: Highest Uninsured Rates in the Country for Children and Adults
4.9 million Texans (all ages) were uninsured in 2022, which is  17% of all Texans.

Texas is the state with both the largest number and percentage of uninsured residents in the United States. Texans make

up 9% of the U.S. population, but 18% of the U.

S. uninsured.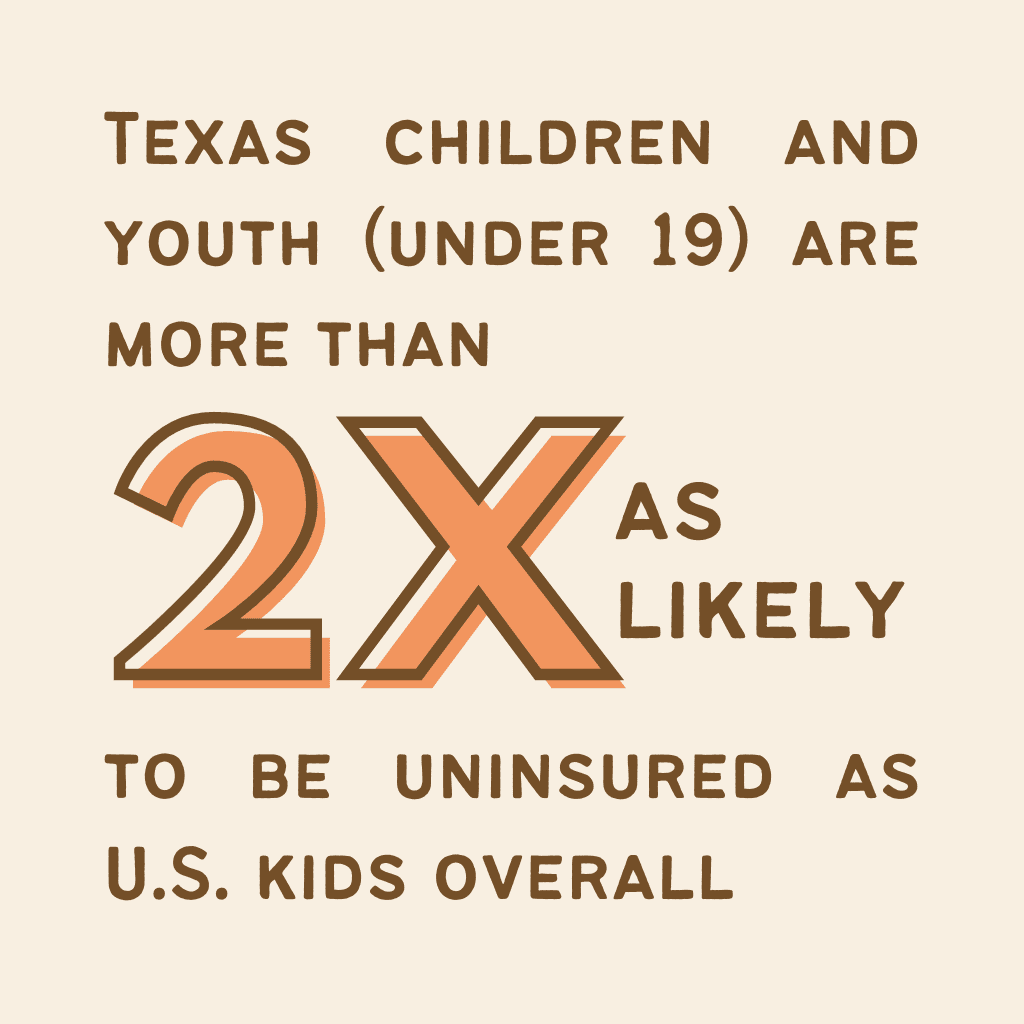 Texas has the worst uninsured rate by a large margin

: Texas' 17% uninsured rate is 4.9 percentage points worse than the next-lowest-ranking states (Oklahoma and Georgia) and is double the 8% national rate. It should also be noted that Oklahoma expanded Medicaid in 2021, and we will likely see its uninsured rate drop in the coming years as access to coverage increases. 

Working-age Texans (19-64) are disproportionately uninsured compared to other age groups. While working-age Texans make up 60% of our state's total population, they account for 81% of all uninsured Texans.

Texas children and youth (under 19) are more than twice as likely as U.S. kids overall to be uninsured: 11% in Texas, compared to 5.1% for the U.S. No other state has a child uninsured rate in the double digits. 
There are significant racial/ethnic disparities in the data that reveal a much larger share of Texans who identify as Hispanic and American Indian or Alaskan Native are uninsured. More often than not, Texans of color are left without an affordable coverage option as Texas fails to expand Medicaid. Groups are locked out of coverage altogether and the numerous barriers for eligible people to enroll in coverage both reflect systemic racism and perpetuate racial inequities and disparities. Inequitable policies and underfunded systems in Texas perpetuate disparities in health care and coverage access, as well as health outcomes. 
Of the estimated 850,000 uninsured Texas children in 2022, 66% are Hispanic.  

15% of Hispanic children in Texas and 19% of children in Texas identifying as American Indian, Alaskan Native, Native Hawaiian, or other Pacific Islander are uninsured, while only 7% of non-Hispanic white children lack coverage.  

31% of Hispanic working-age Texas adults (19-64) are uninsured — more than three times the rate of non-Hispanic white working-age Texans (10%). 

At 17%, Black working-age adults also have a much higher chance of being uninsured than non-Hispanic white working-aged Texans (10%).  

Texans identifying as Hispanic or Latino and American Indian or Alaskan Native had the highest uninsured rates across all races and ethnicities at 26% each. 
In Part 2 of this series, we will discuss the policy solutions and challenges to making health care accessible to all Texans.