This blog was co-authored by Kaitlan Wong and Jonathan Malagon.  
View our data brief on LGBTQ+ Texans here. 
All Texans – regardless of gender or sexual orientation – have pride in their identities and love for the communities they call home. Yet, Governor Abbott, Attorney General Ken Paxton, and their anti-LGBTQ+ allies in the legislature maliciously attack transgender and LGBQ+ Texans to hold onto power and distract us. While legislators make inhumane attacks on the rights of Texans, they shove important priorities, including quality public education, affordable health care, and dignified jobs to the side. 
Transgender and LGBTQ+ Texans are a critical part of our community's social fabric, and they deserve the same freedom and dignity we all want and expect. According to Every Texan's analysis of U.S. Census Bureau 2020 data, there are approximately 100,000 same-sex households in our state, and about half of these households are people of color (Asian, Black, Indigenous, Latinx, and/or Pacific Islander). Additionally, an estimated 122,700 Texans are transgender, including 29,800 youth between the ages of 13 to 17, according to the Williams Institute. Given the racial and ethnic diversity of our state, most transgender Texans are also people of color; nearly half of all transgender people in our state identify as Latinx. No matter what part of the state they call home, transgender and LGBTQ+ Texans are our children, parents, relatives, and neighbors.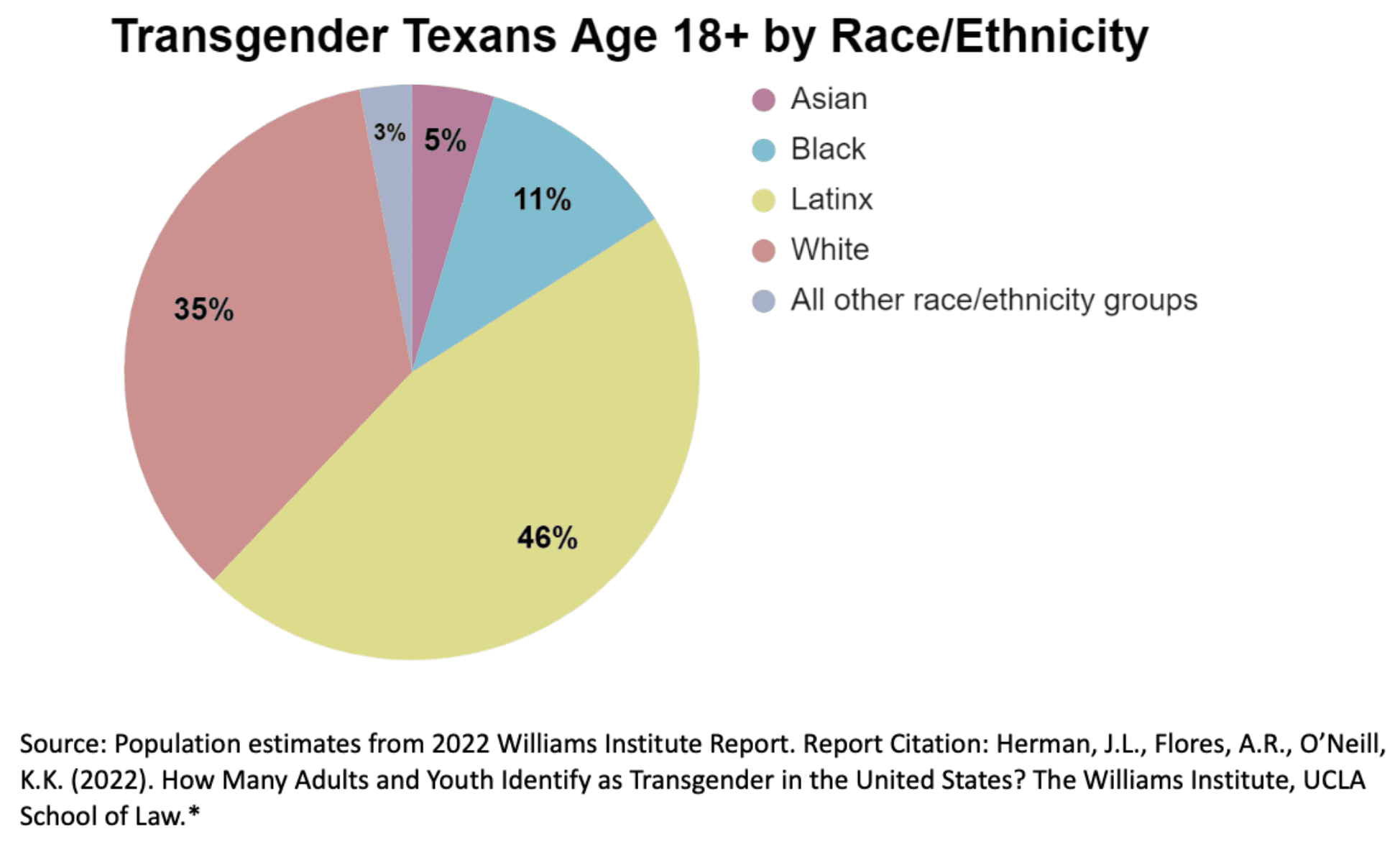 Despite this reality, Texas is shamefully leading the country in anti-LGBTQ+ legislation. Of the nearly 500  anti-LGBTQ bills introduced across the country during the 2023 Legislative Session, approximately 141  anti-LGBTQ+ were filed in Texas alone. These bills banned life-saving healthcare for transgender youth, further stigmatized LGBTQ+ youth by turning their identities into a banned topic in our schools, punished small businesses for creating inclusive spaces, and attacked communities across our state that passed efforts to protect our LGBTQ+ families and neighbors. However, the LGBTQ+ community and allies stood strong and defeated all but a handful of these dangerous bills. 
Let's be clear: a handful of self-interested politicians are stoking fear and exploiting a lack of familiarity with transgender and LGBTQ+ Texans to deny our communities resources, jobs, and health care we all need. Texans continue to face long-standing challenges in health care access; we have the highest uninsured rates in the country and an alarming number of eligible Texans losing Medicaid coverage over the previous months . Except for Latinx households, same-sex couple households are more likely to be among the uninsured than opposite-sex couple households. Furthermore, same-sex couple households live in poverty at higher rates than opposite-sex couple households, with Black and API same-sex couple households almost twice as likely to experience poverty than their opposite-sex couple household counterparts. It is also unsurprising that LGBTQ+ households have more difficulty paying usual household expenses and are more likely to experience food insecurity. For transgender Texans specifically, the stigma and misplaced fear perpetuated by anti-LGBTQ+ legislators have only increased barriers to adequate housing, quality schools, dignified jobs, and affordable healthcare. While playing to fears around books and curriculum that acknowledge the presence and contributions of the LGBTQ+ community, Governor Abbott and his anti-LGBT allies have distracted from their failure to address school funding shortages for students and teachers, which impacts all public schools and the children they serve.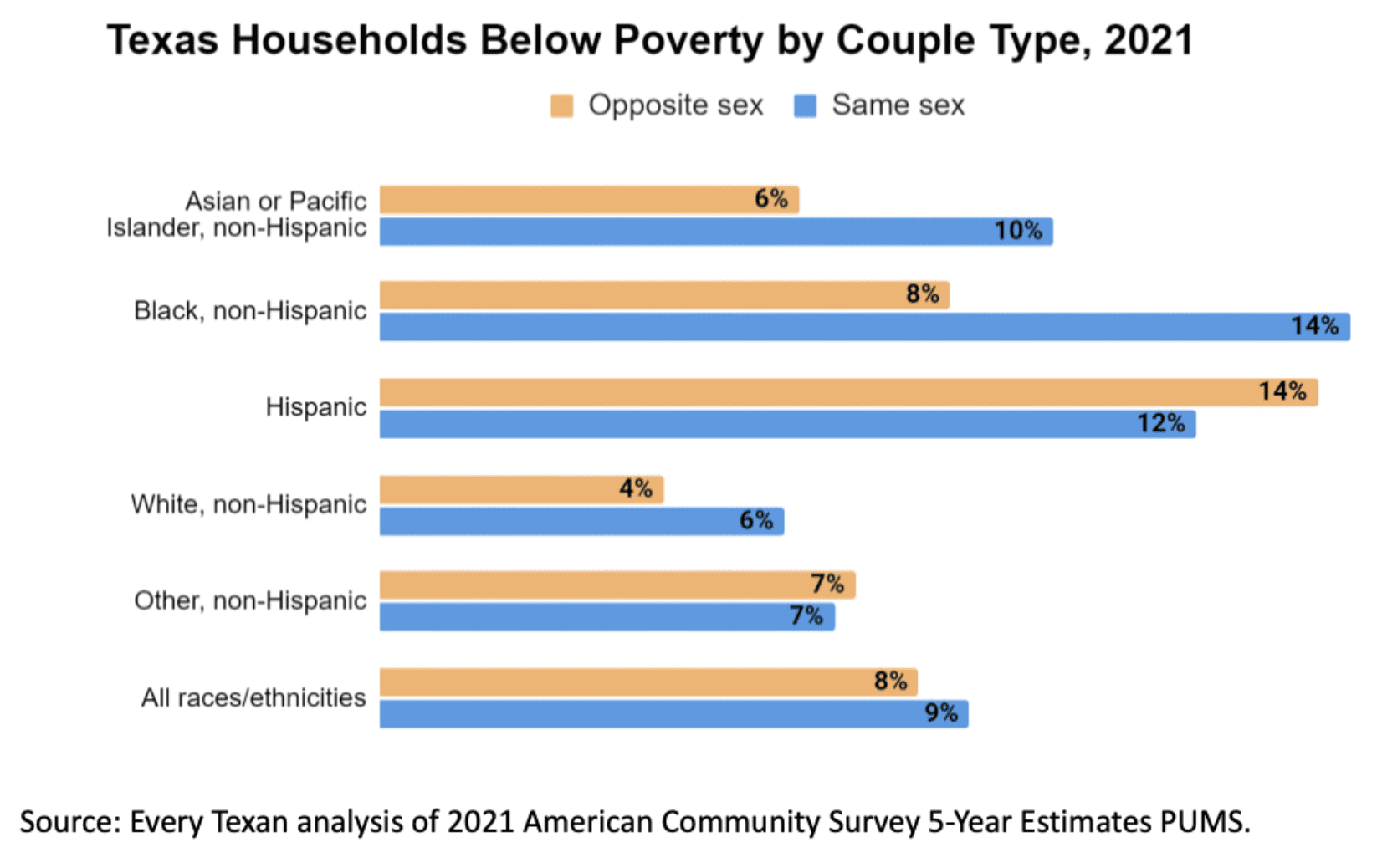 This past legislative session, we also witnessed an attack on the Youth Risk Behavior Survey (YRBS), an important survey instrument that provides the most comprehensive statewide data on preventive health practices and health risk behaviors of Texas youth. It is the only survey that provides this information broken down by demographic factors, including sexual identity. We know that LGBTQ+ youth disproportionately experience poor mental health outcomes compared to their straight and cisgender peers because of the data gathered in the YRBS survey. For instance,  LGBQ+ youth in Texas are more than three times more likely than heterosexual youth to attempt suicide. The state should invest in programs that ease mental health burdens on youth and their families and increase student access to mental health services and counselors.  
Quality data is crucial for effective public policy. However, there are currently no state or federal laws requiring agencies to collect and report sexual orientation and gender identity data. As a result, the data available on LGBTQ+ people are limited. While the U.S. Census Bureau reports data on same-sex couple households, it does not collect comprehensive sexual orientation and gender identity data as a part of the American Community Survey, the largest household survey administered by the Census Bureau. When data is not collected for certain demographic groups, it makes it difficult to identify disparities that exist, much less create solutions to address them. LGBTQ+ people deserve to be included in policy and funding decisions. It is imperative that all agencies start reporting sexual orientation and gender identity data to better identify and address the needs and disparities among LGBTQ+ people. 
Most of us want our kids, neighbors, and families to have the freedom to learn, to be our authentic selves, and to be healthy and safe. All Texans should continue to support critical legislation that ensures LGBTQ+ people can visibly live, work, and contribute to our communities while having access to the crucial resources that help us all thrive. Texans want to be respected and trusted to make decisions about our own lives and bodies without state interference. We will not succumb to legislation that pits Texans against one another and denies community members essential resources. Collectively, we can defend true Texas values without exception. 
Note: This blog is based on data from the U.S. Census Bureau and the Williams Institute. Data collection efforts across many survey instruments have yet to fully address the need to include the diverse identities of Texans. Therefore, the demographic breakdown provided in this brief primarily reflects binary, cisgender sex-disaggregation of data. Such binary focus excludes important information about transgender and gender nonconforming populations. The categories of race and ethnicity utilized also do not adequately reflect the multiracial and multiethnic population of Texas. The way that many primary sources for data collect sexual orientation, gender identity, racial, and ethnic data must evolve to be more inclusive and representative of the geographic, social, and cultural dimensions that define the concepts. 
*Disclaimer: The information provided in the Williams Institute analysis contains data points with wide confidence intervals. A confidence interval is a statistical measure that quantifies the uncertainty surrounding a particular estimate or measurement. Wide confidence intervals indicate a higher degree of uncertainty, implying that the true value or range of values could differ substantially from the reported data. 
It is important to note that wide confidence intervals can arise due to various factors, including but not limited to small sample sizes, high variability in the data, or limitations in the methodology employed. As a result, the estimates or conclusions derived from such data points may carry a higher level of uncertainty and should be interpreted with caution.