On May 1, 2023, Every Texan partnered with grassroots organizations to host the state's first Care Worker Power Day. Together, with Texas-based chapters of the National Domestic Workers Alliance (NDWA), We Dream in Black, Fe y Justicia, MISMA of Austin, Domesticas Unidas of San Antonio and the Personal Attendant Coalition of Texas (PACT), we added to an already historic day. More than 60 care and domestic workers came together to demand dignity, respect, and statewide policy change that will raise the bar for all workers living in Texas. 
As part of our initiative to center people in our state's policymaking, Every Texan is building relationships with the worker-led, community-based organizations that best understand the policy solutions we need to advance equity and opportunity across the state, especially for workers and their families. 

Care Worker Power is Important to All Texans
Care Worker Power Day brought workers, and those they care for, to the Capitol to tell their stories directly to Texas legislators. It was also an opportunity for care and domestic workers to advocate for statewide policies that enable all workers to share in the prosperity their labor helps create. All Texas families, no matter where we live, depend on care and domestic work. Care Worker Power Day shared the message that when the workforce is undervalued and mistreated – it costs us all. 
Care and domestic workers are some of the most undervalued workforces. Due to a history of slavery and Jim Crow segregation, care and domestic work are systemically undervalued; caring for children especially is not commonly viewed as "real" work, and those perceptions affect worker pay. According to a 2023 Rutgers University report, domestic and care workers in Texas face higher levels of wage theft than other worker arenas.
Texans value our families and the ability to prosper together. Unfortunately, Governor Abbott, Lt. Governor Patrick, and the most powerful legislators in the House and Senate deliberately undermine working families to favor the wealthiest corporations and people. Whether you're from El Paso or Temple, we must pressure lawmakers to enact policy changes that our communities deserve. Care Worker Advocacy Day was an important step toward building the people-power at the Texas Capitol necessary to hold our state's lawmakers accountable to our vision: a Texas where all labor – especially care labor – is valued with dignified wages. 
Who Are Care and Domestic Workers?
Ninety percent of all domestic workers are women. Care and domestic workers are disproportionately women of color. According to the Economic Policy Institute, 94% of house cleaners and 97% of child care workers nationally are women. The same study shows that women of color make up nearly 18% of the national workforce, but they account for more than half of all home health care workers  (54.6%) and make up 40.9% of the child care workforce.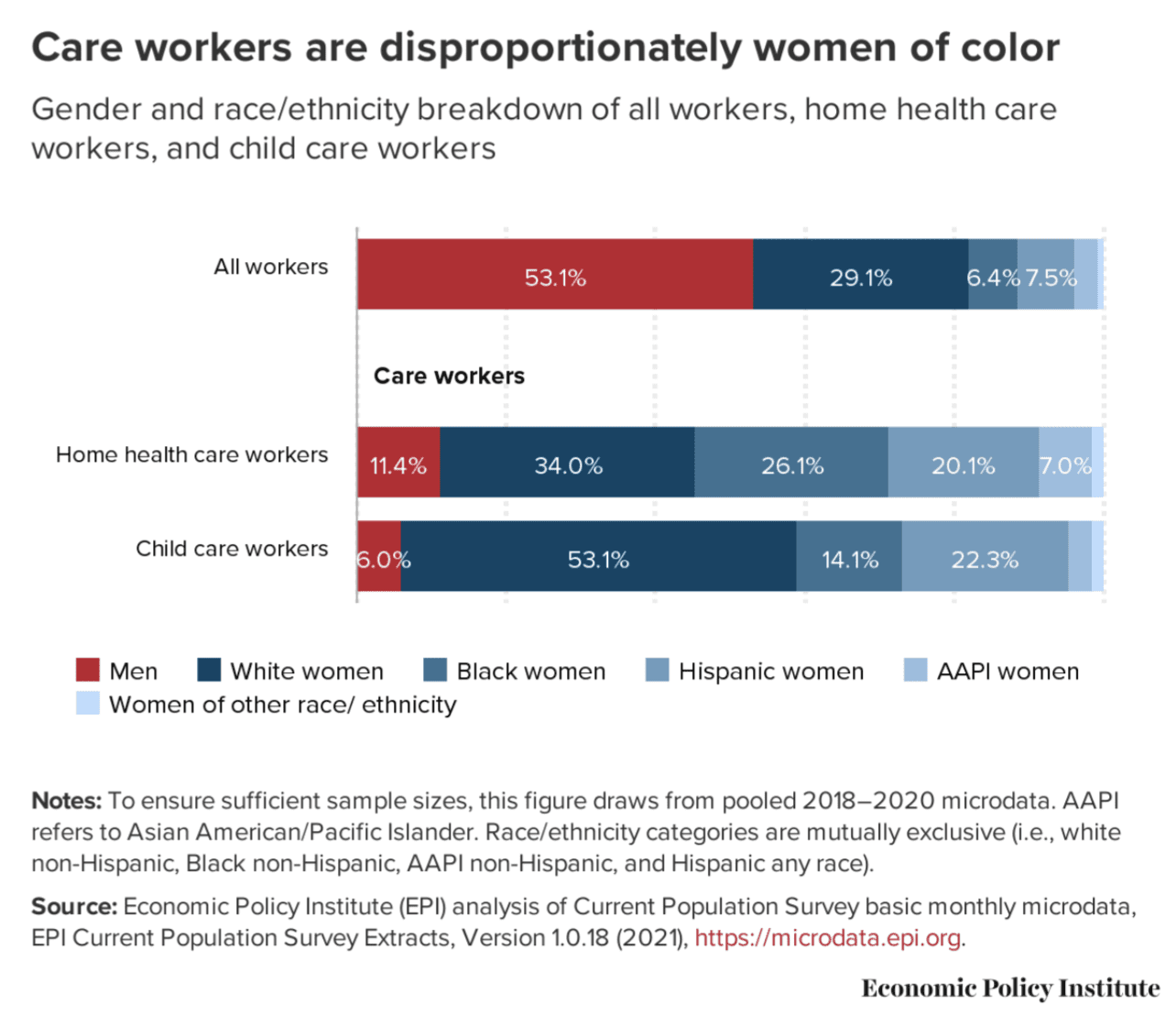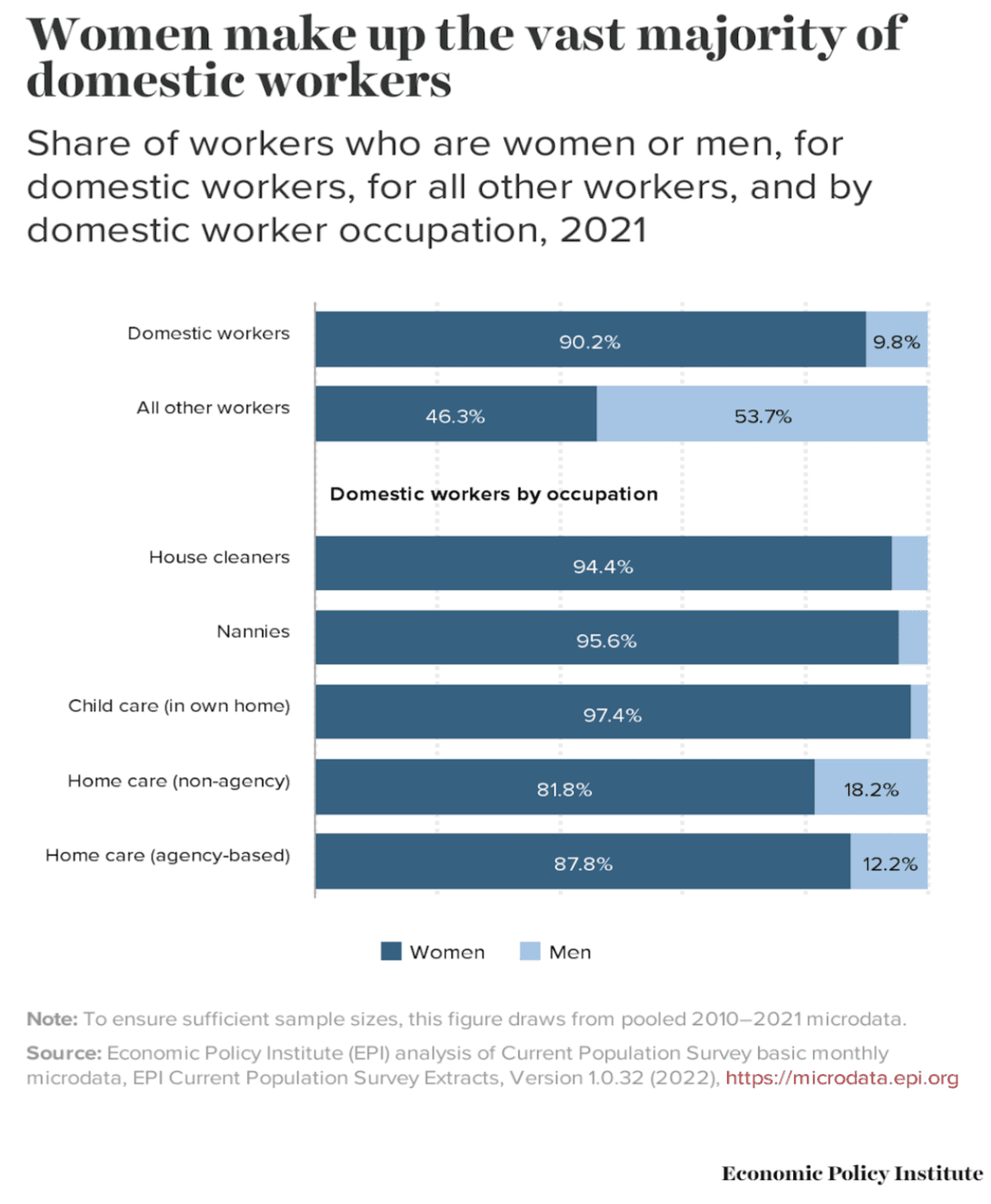 How Many Care and Domestic Workers Work in Texas and What Are Their Wages? 
As of May 2022, approximately 3% of Texas' 14.4 million workers (418,000) performed child care, home health and personal care, or maid and housekeeping services. For all 3 occupations, the median wage for Texans is below the national average. 

Statewide Policy Changes Will Raise the Bar for All of Us – Including Care Workers
When we raise wages and improve protections for care and domestic workers, we simultaneously raise the bar for all workers. 
Here are some of the policy solutions that Every Texan and our partners advocated for on Care Worker Power Day:
Raise the state's minimum wage to at least $15 per hour or approximately $31,00 annually

40% (5.6 million) of Texan workers

earn $15 or less per hour

Care and domestic workers' median hourly wage is far below $15 per hour – raising the state's minimum wage would immediately address systemic wage disparity

Texas has the 2nd largest workforce in the U.S., after California 

Pass paid family medical leaves
Protect workers from wage theft and misclassification

Three million Texas workers experienced wage theft between 2009 and 2022 equivalent to $12 billion dollars – wage theft is widely underreported so we anticipate the number of workers impacted is far greater 
Employers purposefully misclassify workers as subcontractors to avoid paying payroll taxes on their employees. This illegal practice defrauds our Medicare and Social Security systems. For example, in Texas' construction industry, we know that 37% of workers are misclassified, costing $1.2 billion in lost payroll taxes annually.