The Children's Health Coverage Coalition (CHCC) was formed in 1998 (as the Texas CHIP Coalition) to work for the establishment of a strong Children's Health Insurance Program (CHIP) in Texas. Today, our broad-based Coalition continues to work to improve access to health care for all Texas children, whether through Medicaid, CHIP, or private insurance. 
Organizations adopting the CHCC legislative agenda in 2021 were: Children's Defense Fund – Texas; Children's Hospital Association of Texas; Every Texan; Feeding Texas; League of Women Voters of Texas; Methodist Healthcare Ministries of South Texas, Inc.; NAMI Texas; National Association of Social Workers – Texas Chapter; Pedi Place; Texans Care for Children; Texas Academy of Family Physicians; Texas Association of Community Health Centers; Texas Association of Community Health Plans; Texas Hospital Association; Texas Medical Association; Texas Parent to Parent; Texas Pediatric Society; United Way of Metropolitan Dallas; United Ways of Texas; and Young Invincibles.
On Monday, October 3rd, the CHCC submitted testimony to the House Select Committee on Health Care Reform on ways to improve outreach to families with children who are eligible for, but not enrolled in, Medicaid or CHIP, including children in rural areas. 
Improve Outreach and Enrollment to Help Eligible Children and Pregnant Women Get and Stay Covered
No child or pregnant woman in Texas should be without care. This bears repeating — no child or pregnant woman in Texas should be without care in Texas. Texas has either affordable health coverage today or temporary maternity care, for nearly every child or pregnant woman. Yet numerous barriers keep many Texans who qualify from enrolling, and our state's uninsured rates are the highest in the nation. The Texas Legislature should remove these barriers to coverage and be an active partner in connecting eligible kids and pregnant women to coverage by investing in needed staff, increased outreach, and streamlined systems that reduce burdens on state eligibility staff and families.
The state's outreach efforts aimed at reaching eligible uninsured children and pregnant women are not as robust as they once were, and Texas' enrollment systems are not nearly strong enough to meet the heightened need during the unwinding of the Public Health Emergency (PHE). When the Public Health Emergency ends 3.7 million Texans, most of them children, will be at risk of losing coverage, testing our outreach efforts and enrollment systems like never before. Before the end of the PHE, Texas should commit to urgently taking the steps needed to keep eligible children enrolled, and once the PHE- unwinding period ends, Texas should commit to continuing successful outreach and enrollment strategies.
The Children's Health Coverage Coalition makes the following recommendations to reduce the number of children in Texas who are eligible for Medicaid or CHIP but not enrolled:
1. Revitalize the state's outreach and application assistance efforts to connect more eligible children and moms to health coverage.
In order to enroll the most hard-to-reach populations, and connect with community-level stakeholders to reach historically uninsured children, the legislature should fund outreach, including outreach and application assistance performed by community-based organizations by no less than $15 million per biennium. Funding for Medicaid and CHIP outreach has been cut back since 2009, and funding to Community Partner organizations that perform outreach and enrollment assistance activities at the community level was completely eliminated. Community Partners not only help clients, they also help relieve burdens on both state eligibility workers and the 2-1-1 option 2 call center (HHSC program contracted to Maximus). Texas should also ensure that innovative outreach approaches implemented due to the public health emergency are permanently incorporated into Medicaid.
Increased funding should be used to:
Reinvigorate the Texas Health and Human Service Commission's Community Partner Program with increased agency staff support and increased case management capabilities.
Provide funding to Community Partner organizations to perform outreach and application assistance. Funding can be used to help target specific communities with outreach and enrollment assistance, including Community Partners that will:

Promote partnerships with schools and child care centers to systematically identify uninsured children and connect them with enrollment assistance;
Work with businesses that don't traditionally offer health insurance, to help enroll the children of working parents in Medicaid or CHIP; and/or
Partner with churches and faith-based organizations. 

Conduct a robust outreach campaign to mixed-immigration-status families to reach children who are eligible but not enrolled in Medicaid or CHIP. One in four Texas children has a parent who is not a U.S. Citizen (of any immigration status).
Strengthen messaging and marketing to pregnant women on availability of Medicaid and CHIP Perinatal, in order to increase on-time prenatal care in Texas and improve birth outcomes.
In addition, HHSC should: 
Maximize client outreach via direct text from the state as well as through approved partners, such as managed care organizations and Community Partners.
Leverage federal flexibilities to ensure Community Partners can provide client-centered application assistance to Texans via phone, including to Texans in rural areas.
Leverage 2-1-1 (both local/regional Information and Referral and HHSC Option 2) to reach unenrolled children. Train staff to identify households with uninsured children and encourage them to apply, and use the hold message to encourage enrollment.
2. Remove barriers in state enrollment systems that keep eligible Texans from getting or staying covered.
Texas cannot meaningfully reduce its eligible yet uninsured population without first addressing artificial barriers that discourage or prevent enrollment or renewal of eligible kids. Outreach alone is not sufficient to keep families from struggling to get or keep coverage. When the PHE ends, the Texas eligibility and enrollment system will face a task that is unprecedented in scale while grappling with substantial workforce constraints. Given this, Texas should work now to streamline systems and leverage flexibilities to mitigate the loss of coverage by eligible children at the end of the Public Health Emergency:
A. Direct HHSC through a budget rider to increase use of efficient, data-driven renewals, with a goal of completing 50% of renewals utilizing reliable, third-party data.
Ensure HHSC has access to and fully leverages reliable, third-party income data sources in every month.
Adopt the "Express Lane Eligibility" option to use eligibility information – like income and household size – already verified by HHSC through SNAP or other programs to help enroll and renew eligible kids in Medicaid and CHIP. This successful strategy for enrolling eligible yet uninsured children also reduces the number of eligibility staff needed to process paperwork, producing administrative savings for states.
Remove barriers in client-facing systems to ensure that individuals can easily complete simple and critical tasks such as electronically updating their contact information, resetting their password, and getting full access to their case on the web portal and mobile app.
Leverage reliable third-party data sources to more efficiently update client contact information, including the U.S. Postal Service National Change of Address database and data from managed care organizations.
3. Adequately fund the state's eligibility and enrollment systems to prevent harmful delays in coverage now and to prevent a large loss of coverage among eligible kids at the end of the Public Health Emergency.
Like many employers, HHSC is facing significant staffing challenges for eligibility workers in this tight labor market. HHSC has already taken numerous steps to improve retention and recruitment of its eligibility workforce and likely has few additional levers to improve staffing levels without legislative action. Staffing shortages have already caused Texans to face long delays for critical benefits and mandatory overtime for workers. In addition, hold time for contractors at 2-1-1 option 2 are often an hour or more. The end of the public health emergency will greatly increase workloads and exacerbate challenges for Texans and agency staff. Without adequate staffing of and training for critical positions like call center staff and eligibility workers, it will not be possible to successfully resume normal, orderly renewal operations without reimagining the agency's current work plan.
Rebuild eligibility systems' staff numbers, sufficient to eliminate harmful delays that can harm Texans seeking health care, food and other basic needs assistance.
Ensure sufficient 2-1-1 option 2 vendor capacity to significantly reduce hold times and call abandonment rates.
Increase the number and capacity of outstationed eligibility workers at FQHCs and hospitals, and pilot innovations in the program that increase access, including in rural areas.
4. Support interagency partnerships to identify additional outreach and enrollment opportunities.
Provide staffing and funds necessary for Texas HHS to actively work with other agencies or programs to identify individuals who would benefit outreach and enrollment into Medicaid or CHIP or a referral to the Health Insurance Marketplace, including working with the following:
Families receiving services through DFPS Prevention and Early Intervention program.
Families receiving Pandemic EBT or free or reduced-price lunch at child care centers, public schools, and private schools in collaboration with TEA.
People receiving workforce or child care services from the Texas Workforce Commission.
People receiving services through local public health departments in collaboration with DSHS.
Questions regarding this document may be directed to Stacey Pogue (pogue@everytexan.org); Adrienne Lloyd (alloyd@childrensdefense.org); or Alec Mendoza (amendoza@txchildren.org). More information on the CHCC is available at http://www.texaschip.org/.
The Children's Health Coverage Coalition appreciates the opportunity to present this testimony. Our coalition developed a set of recommendations for this committee related to Charge #4 to reduce the number of uninsured children in Texas who are eligible for Medicaid or CHIP but not enrolled. Some of those recommendations were discussed in the Committee's 8/5/2022 hearing and others have been presented by other Coalition participating organizations testifying today. Today, we submit that full list to you in writing, but focus on two key recommendations not already presented to this committee.
1.Revitalize the state's outreach and application assistance efforts to connect more eligible children and moms to health coverage, including funding community-based partners statewide.
The 2000 CHIP roll-out in Texas was the first-ever outreach effort ever for Texas Medicaid. Texas broke national records enrolling children in our new CHIP program in 2000 and 2001, and a strong intentional plan for marketing, outreach, and enrollment assistance was a significant part of that success. That work had an impact that carried over to children's Medicaid, when enrollment was simplified by the Legislature in 2001 session to be similar to CHIP.
As the table below illustrates, the first CHIP biennium was the high-water mark for outreach and marketing funding. Funds were available in the 2000's for community-based outreach and enrollment assisters. Those early programs have since then been replaced by HHSC's Community Partners Program (CPP), which provides important resources, but no longer offers local and regional grants that can make offering outreach and enrollment help possible in smaller towns and rural counties. The CHCC believes that this recommended renewed budget investment will expand the reach of CPP to reach more be paired with under-resourced parts of the state.

The percentage and numbers of uninsured Texas children grew from 2017 to 2019, and Texas children's Medicaid and CHIP enrollment dropped in 2018 and 2019. As one key tool to respond, the Coalition strongly urges the Legislature and HHSC to renew a dedicated focus on marketing, outreach, and enrollment assistance.
Texas' child population has increased by one-third (33%) from 5.9 million to 7.9 million from 2000 to 2021. The Coalition recommends allocation of an amount that—at minimum—restores Texas' previous biennial investments of the 2000s ($11.8 million to $15.3 million) in outreach. Texas' investment should:
Address the current need to reduce the number of eligible but uninsured children;
Take into account the historical funding in 2000-2001, population growth, and inflation; and
Help Texas Medicaid to manage the expected upcoming end to the COVID-19 Public Health Emergency Medicaid continued coverage, without a loss of children's coverage in Medicaid, CHIP, and private Marketplace coverage.
A modest investment in outreach and assistance will reduce state staffing costs, reduce uninsured children, and support the continued quality improvement of Texas' eligibility systems.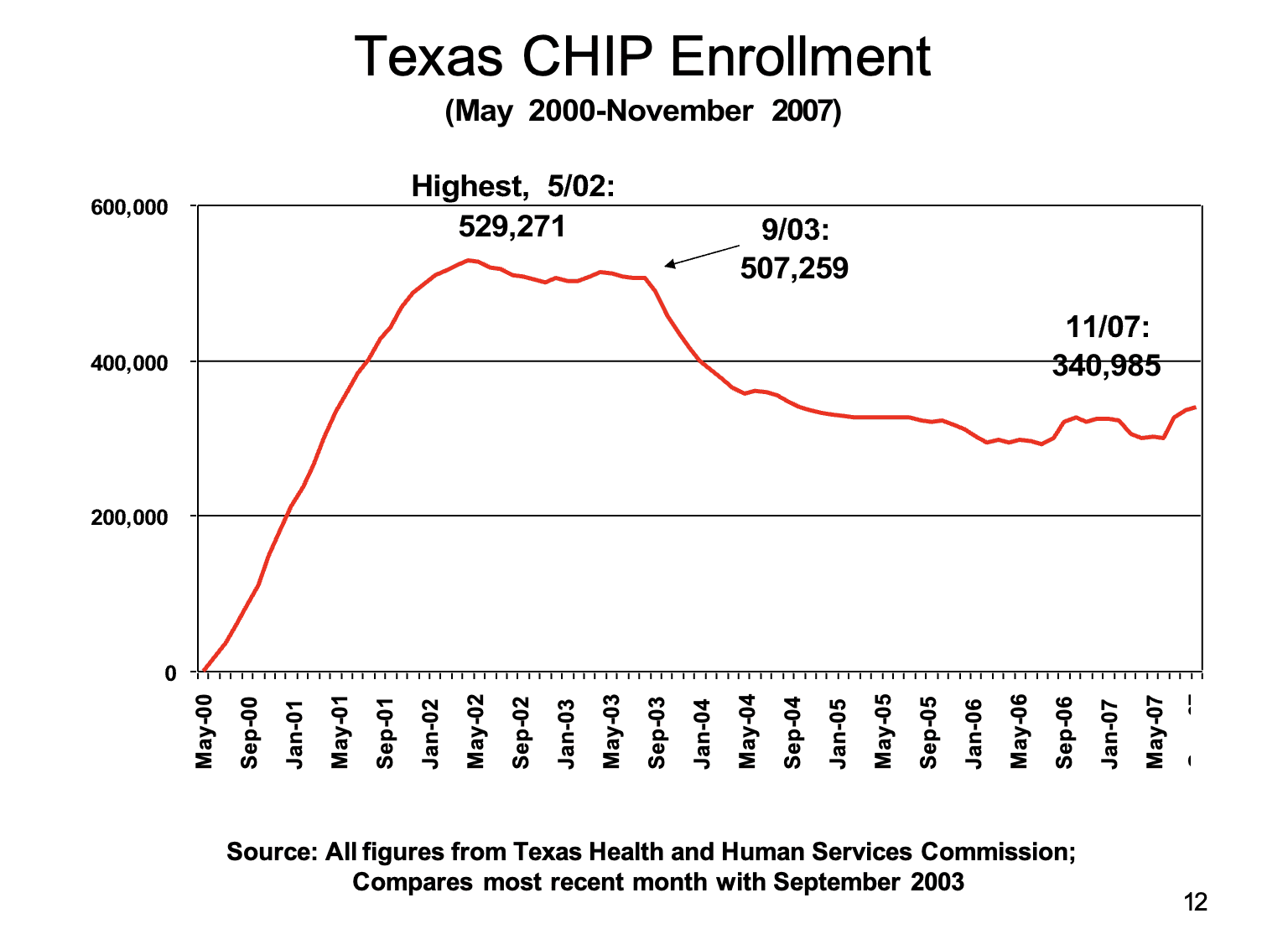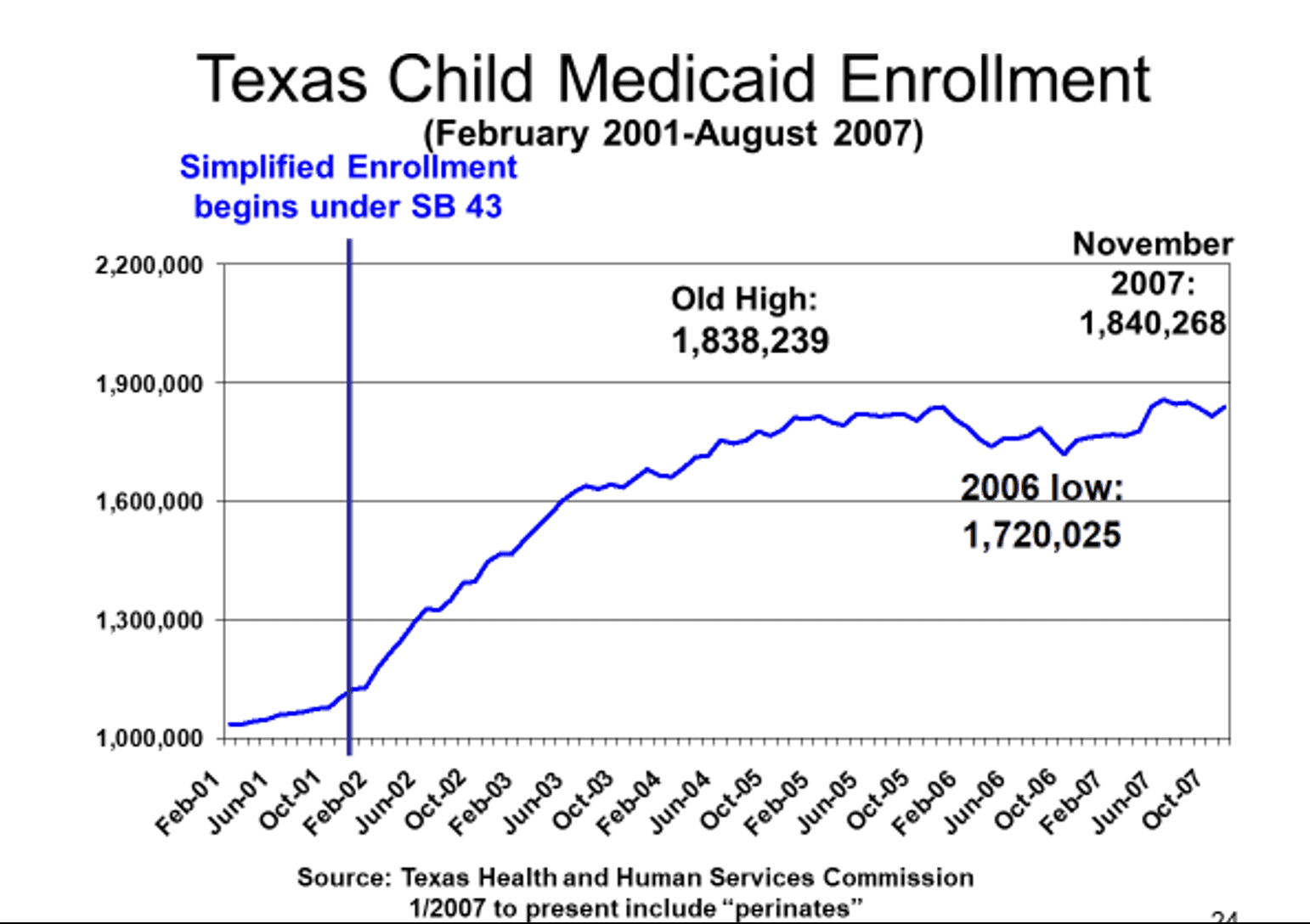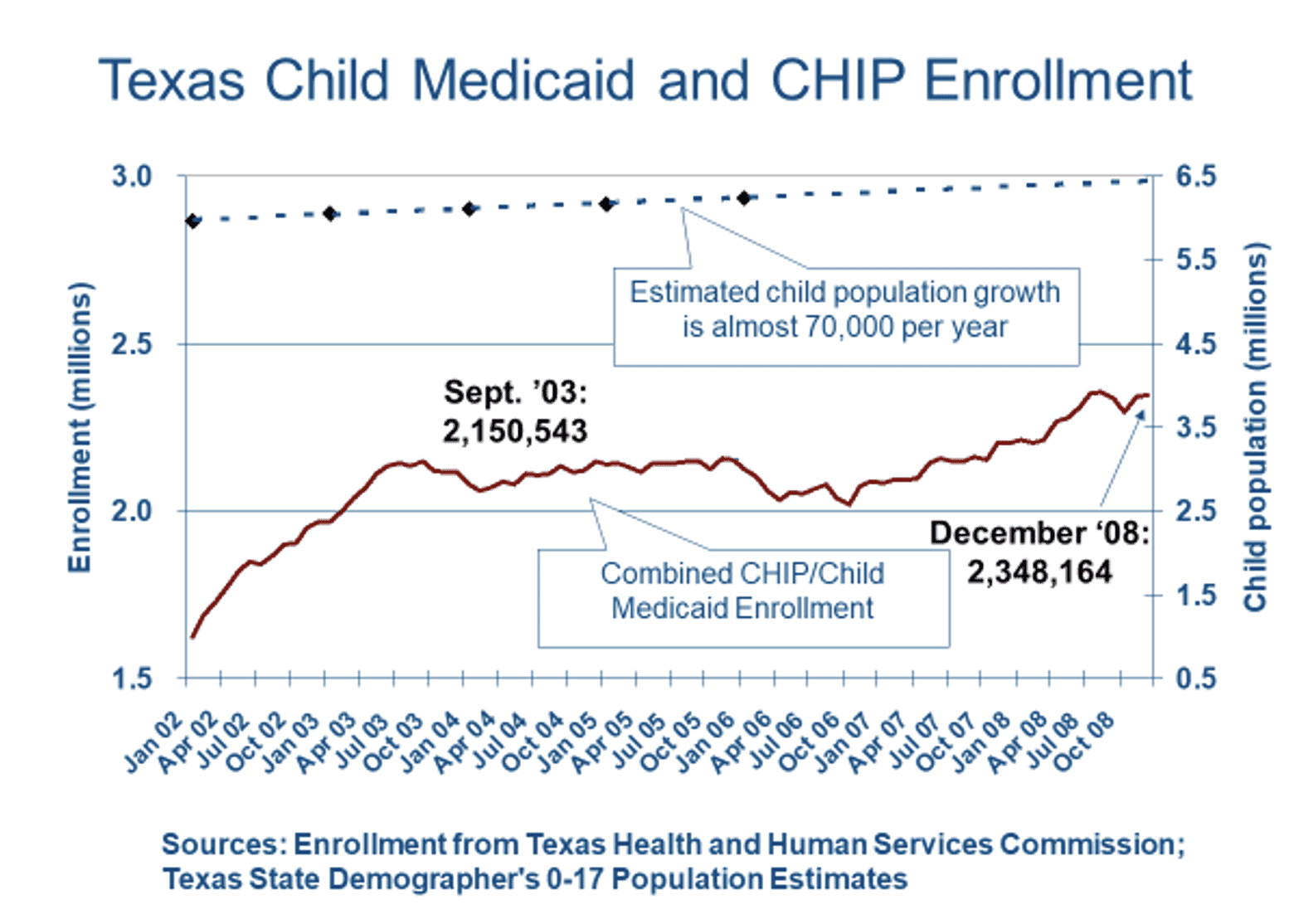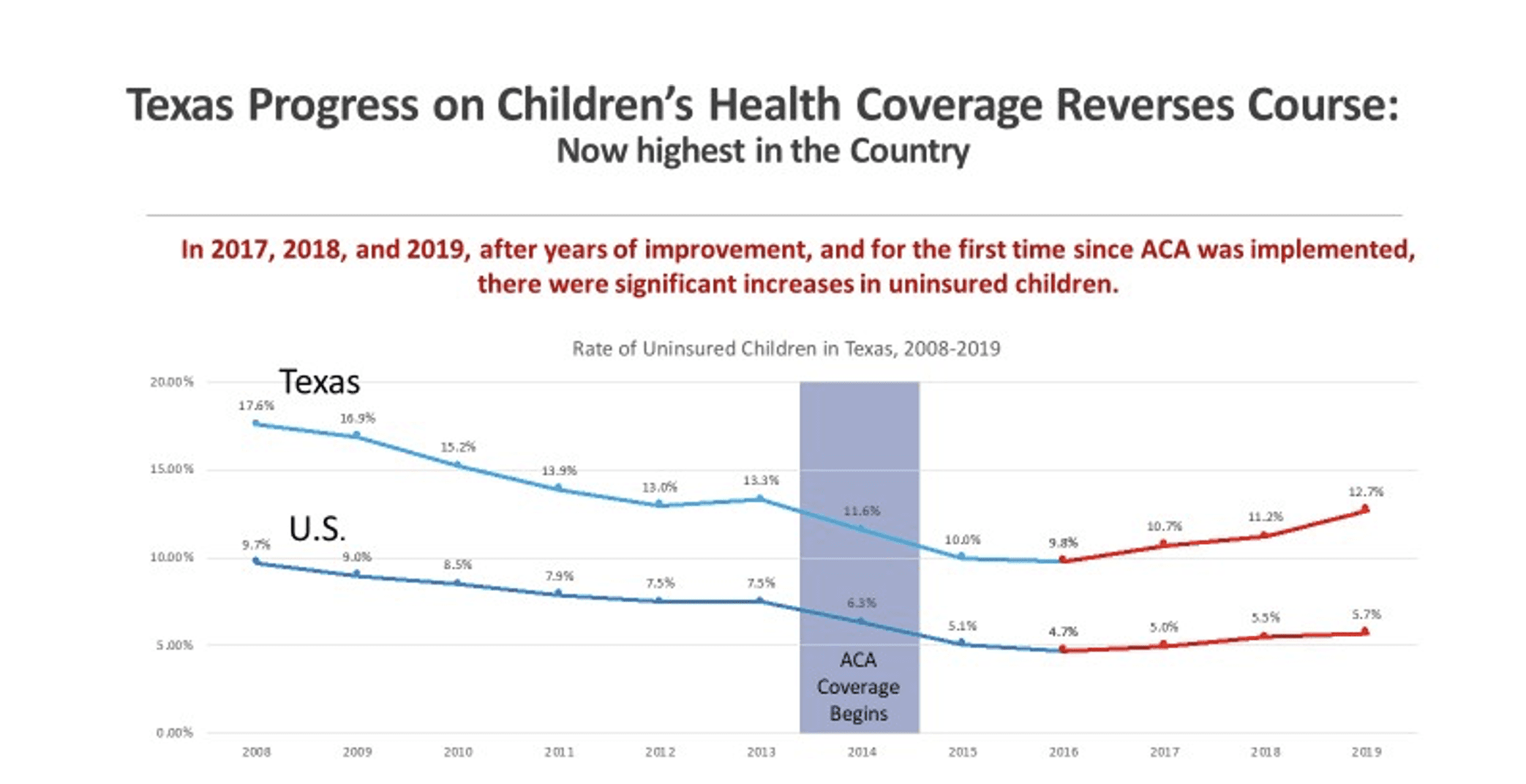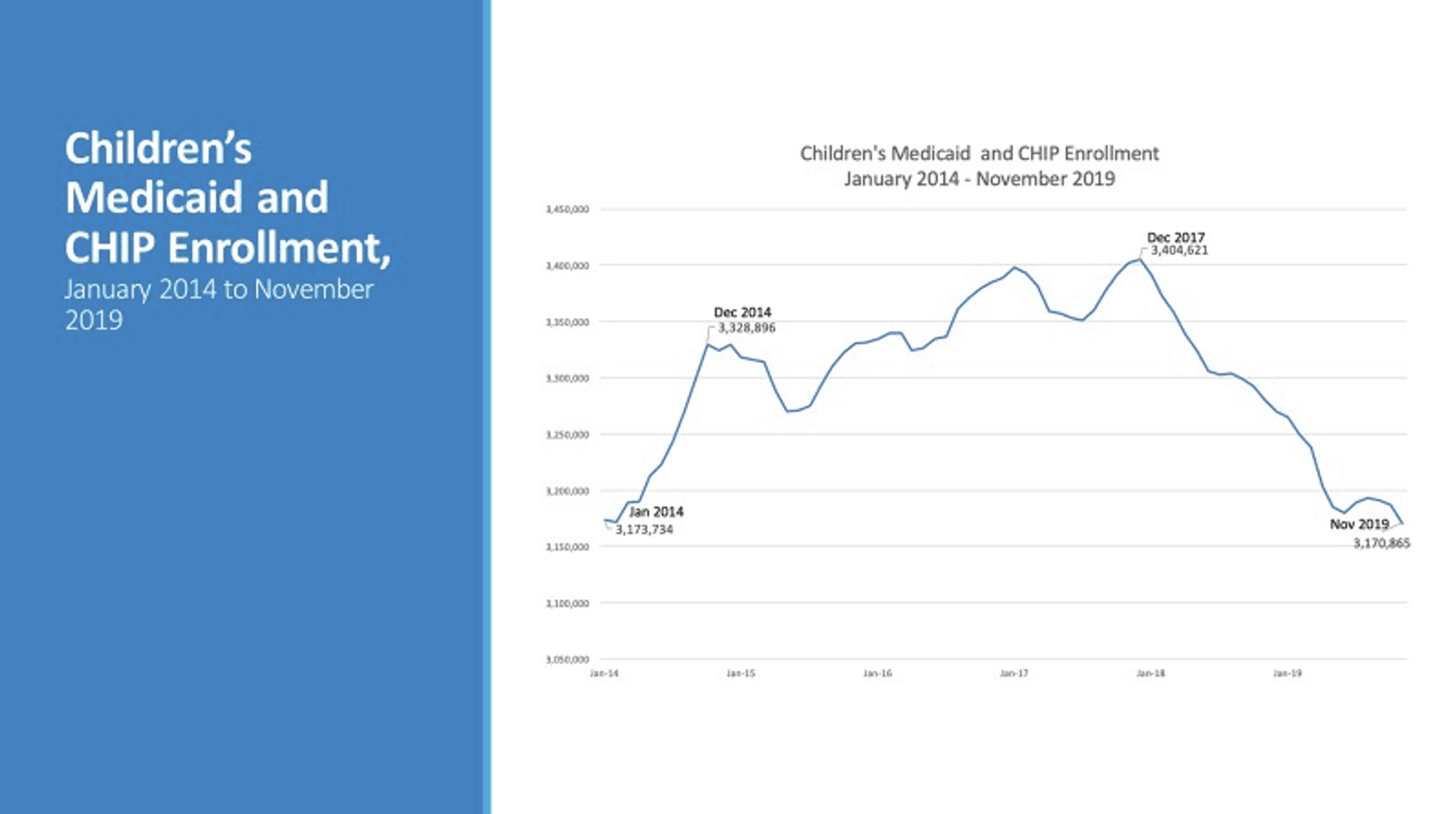 2. The Coalition urges the Legislature to empower HHSC to conduct a robust outreach campaign which clearly explains rules of eligibility for non-citizens and their U.S. citizen family members, and informs parents that children's use of health care services will not affect the parent's immigration status. Updated HHSC eligibility staff training efforts will also be necessary to ensure errors in processing applications and renewals are minimized.
In 2018, U.S. Census data indicated that 5.6 million Texans lived in a family that includes at least one non-U.S. citizen (of any immigration status: lawfully present or undocumented). About 1.9 million of these Texans were children and teens age 17 or younger, of whom the great majority—about 1.65 million—were U.S. citizen children. That's more than one in every four Texas children.
A surge in fear of accessing government services in the immigrant community caused Texas families to drop coverage for tens of thousands of U.S. citizen and lawfully present immigrant children. This fear factor is likely the largest single cause of the 237,000 decline in covered children in Texas Medicaid and CHIP from December 2017 to February 2020 (the current continuous enrollment requirement under federal COVID-19 law for states accepting a 6.2 percentage point increase in their federal Medicaid matching rate during the Public Health Emergency began in March 2020).
The organizations participating in the Children's Health Coverage Coalition (CHCC) and other stakeholders are eager to assist in spreading accurate information to families, but the greatest impact will be achieved if Texas' Medicaid-CHIP-SNAP agency is in a strong leadership role. Federal Medicaid officials have called on state Medicaid programs to lead in the effort to remove barriers for eligible children. HHSC has in past years provided very clear and understandable language regarding immigration status and benefits, but it is currently both outdated and hard to locate.
National Context
There is no mandatory reporting of state Medicaid and CHIP outreach spending. There is a small amount of qualitative information voluntarily provided by some states as part of their CHIP Annual Reports. States including Iowa, Virginia, and Wyoming report support for local outreach assisters, and strong links to school- based outreach and enrollment. In its 2019 report, Wyoming emphasized outreach to mixed-immigration-status families "to help families with mixed immigration statuses to ease caretakers' fears about how much information they need to provide to apply for eligible children," and "sent a notification to immigration attorneys and organizations that assist immigration populations to share with their immigrant clients explaining that the (public charge) rule will not affect the permanent resident eligibility for children enrolled in Kid Care CHIP or Medicaid."
Thank you for considering these recommendations which are based on input from membership across our coalition. Should you need additional information on any of the recommendations, please contact Anne Dunkelberg at dunkelberg@cppp.org, who is submitting these recommendations on behalf of the full Children's Health Coverage Coalition. You can learn more about our Coalition at https://www.texaschip.org/