As we begin to wrap our heads around this unprecedented national emergency, one thing has been made clear: All working Americans need access to paid sick leave. The coronavirus crisis has made it evident that paid sick leave is crucial for public health and well-being. That's why Congress passed the Families First Coronavirus Response Act, which – among other responses to the crisis – provides emergency paid sick leave to workers.
Even outside of a pandemic, paid sick leave is incredibly important. Texans without access to paid sick leave are more likely to experience financial hardship from taking unpaid leave from work. Approximately 43% of Texas workers earning between $35,000 and $15,000 lack paid sick leave while 69% of workers making less than $15,000 lack access. Additionally, of Texans working less than 35 hours per week, 79% do not have paid sick leave. Unpaid leave will also hit Hispanic communities harder as 50% of Texas' Hispanic workers lack access to paid sick leave compared to 33% of Texas' non-Hispanic White workers.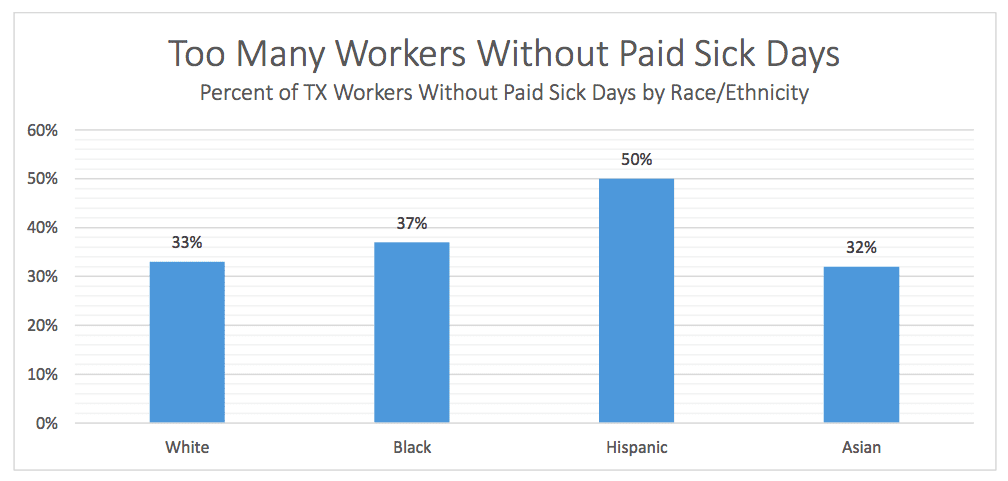 Perhaps most outrageous during this time of crisis, state leaders including the Texas Attorney General are still supporting a special interest lawsuit seeking to prohibit local communities from implementing paid sick leave ordinances. These ordinances are a response to a lack of state action on paid sick leave and if no statewide policy exists, local leaders should have the authority to implement what is best for their communities. The Attorney General should drop this lawsuit immediately.
While emergency paid sick leave was an important step for Congress to take, it will, unfortunately, have too small an impact on preventing the spread of the virus our nation is currently trying to contain. The law comes with several shortfalls. First is that the provisions of the law will not go into effect until April 1, 2020, and provide no retroactive coverage. This is likely already too late for many workers who have been forced to take unpaid leave or have potentially continued to report to work despite feeling ill. By the time this law goes into effect, most of America will have been implementing some form of distancing, including the closure of workplaces, for two to three weeks. This means weeks of lost pay or weeks of exposure to and spreading of the virus.
Additionally, the emergency measures don't go far enough for a pandemic, as most workers will need to stay home for longer than 10 workdays while the contagion is brought to a halt. Ten days of paid sick leave might be sufficient for workers during the course of a normal year, but not during a time when our national public health leaders are instructing businesses to close and for people to stay home for weeks on end.
Finally, the legislation exempts too many employers from the requirements of emergency paid sick leave. Companies with 500 or more employees are not required to give emergency paid sick leave. This represents a significant amount of workers, including employees in workplaces such as hospitals, pharmacies, and grocery store chains, where workers have become front-line responders, keeping people healthy and safe. These measures only serve to aid corporate interests and are not designed for the good of workers or support efforts to reduce the spread of the virus.
Paid sick leave, even outside of a pandemic, is a popular policy among Texans. Polling conducted in 2019 found that 74% of Texans want their local officials to be able to implement paid sick leave requirements. Recent polling asking about the paid sick leave protections in the Families First Coronavirus Response Act found that 76% of U.S. adults believe the provisions don't go far enough or should be expanded.
It's unfortunate that it has taken a global pandemic for lawmakers to take the need for this policy seriously. Many still outwardly oppose it despite the critical anti-poverty and public health protections it offers. We urge our federal, state, and local elected leaders to take stronger steps to protect the health and financial well-being of Texans.
Federally, we call on all members of Congress to support the Providing Americans Insured Days (P.A.I.D.) of Leave Act, sponsored by Sens. Patty Murray and Kirsten Gillibrand and Rep. Rosa DeLauro. The P.A.I.D. Leave Act would ensure working people have access to emergency leave and would go beyond the current crisis to establish national paid sick days and paid leave standards.
Cities should move to pass broader local emergency paid sick leave ordinances swiftly. Local leaders must fill the gaps that exist from a lack of statewide unpaid leave protections and the weaknesses of federal legislation to reduce the financial impact that millions of Texas workers will experience from this crisis.
KNOW YOUR RIGHTS: The Families First Coronavirus Response Act FAQ
Approx 4.3M Texas workers – or 40% of the total workforce – lack access to #PaidSickLeave. Unequal access to #CoronaVirus precautionary measures like working remotely or #PaidSickDays means low-income workers could be hit harder. #txlege #CoronaVirusTexas https://t.co/IGyzRayo5z

— Every Texan (@EveryTxn) March 6, 2020