Our state budget is a moral document that should reflect the needs of Texans from all backgrounds and help every Texan thrive. 
Unfortunately, the Texas Senate budget for 2022-2023, which passed yesterday, fails to make adequate investments in high-quality pre K-12, affordable higher education, health care, and infrastructure to help our communities flourish as Texas continues to grow. 
As the budget process continues and the House prepares to debate its own proposal later this month, Every Texan calls on lawmakers to make public investments that help everyday Texans in pursuit of a safe and thriving state.
Ensure full transparency and public input around federal COVID-19 relief funds 
Neither chamber of the Texas Legislature has received a comprehensive briefing with updated amounts of all federal funds already received from the COVID-19 relief laws enacted in 2020, or the full range of funds newly available under the American Rescue Plan Act (ARPA). Despite this lack of information, both chambers are voting out budgets.
For example, this week the U.S. Department of Health and Human Services (Centers for Medicare and Medicaid Services, CMS) officially estimated that Texas could earn an additional $3.9 billion over 8 quarters if the state adopts a traditional Medicaid expansion or similar coverage under an 1115 waiver. 
Protect funding for healthcare during the pandemic and recovery (Article II)
As the state weathers the ongoing pandemic, which has contributed to a rise in the number of uninsured Texans, state lawmakers must prioritize funding for state health programs, provider networks, and eligibility systems.
Provide more support for Early Childhood Intervention (ECI):

SB 1 assumptions for both caseload and cost per child are inadequate to meet the needs for cost-effective and life-changing early interventions for all Texas infants and toddlers with developmental challenges.

Reverse potential reductions of Eligibility Staff:

SB 1 should reverse proposed staffing reductions–carried over from current-biennium 5% cuts–that would reduce eligibility staff by more than 700.  This may delay sign-ups for Medicaid, CHIP, SNAP, and Healthy Texas Women, making it harder for the state to reach federal standards for promptly enrolling families, all while families struggle to recover from the pandemic.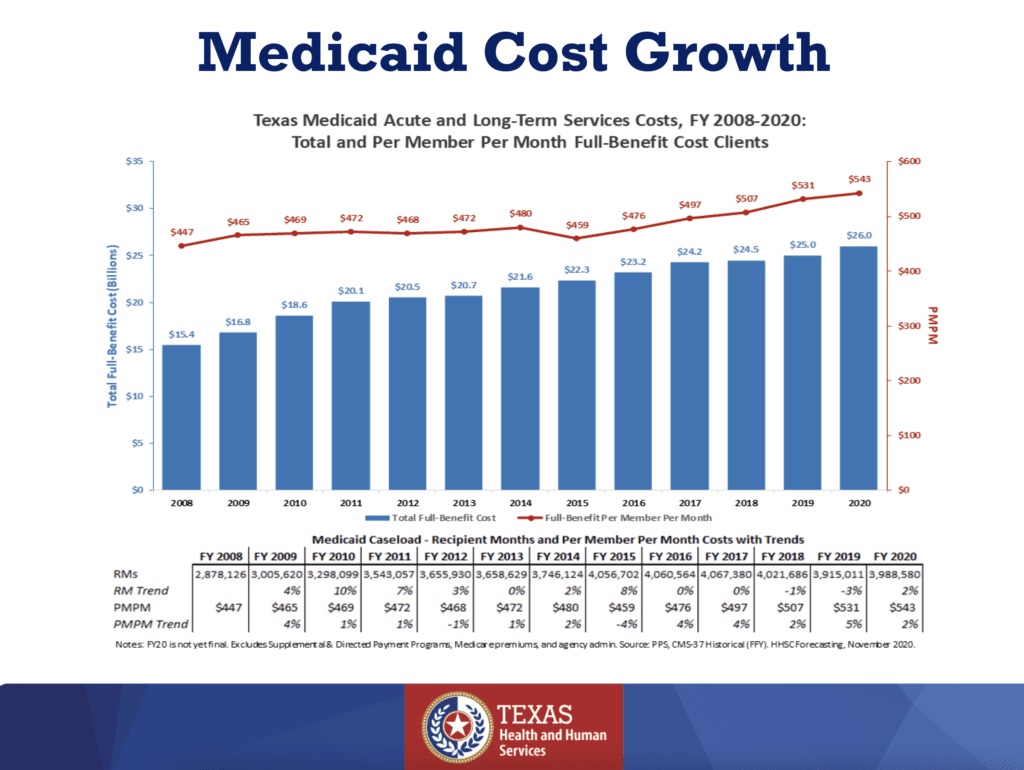 Remove the proposed "cost-containment" budget rider, which cuts Medicaid by $350 million in state General Revenue over the biennium. 

For the past decade, the appropriations act has directed the Health and Human Services Commission (HHSC) to achieve significant Medicaid cost-containment through a variety of measures, ranging from renegotiation of Medicaid managed care contracts, to maximizing co-payments, to further reductions in non-emergency use of hospital emergency departments.

LBB and HHSC data

clearly show that the Legislature has kept spending per Medicaid enrollee

below medical inflation

. Going forward, we have serious concerns that the HHSC may be unable to achieve the budgeted Medicaid cost-containment levels without jeopardizing access to and quality of healthcare in Texas.

Shorten waiting lists for community-based long term services and supports in Medicaid waivers.

Every Texan supports full funding of the HHSC exceptional Item #4 to prevent the waiting times for waiver slots getting longer. The Senate has proposed to fund

just $20 million GR of the $74.4 million

requested by the agency. Analysis of the ARPA option to receive one year of an additional 10 percentage points of federal match for initiatives to increase capacity (supplantation not allowable) for HCBS projects Texas would receive an additional

$862 million in federal matching dollars

.

We also support increasing attendant care wages with the additional federal funds. These wages are currently lower than fast-food and big-box stores' starting pay — so low that our vulnerable seniors and Texans with disabilities often cannot find the help they need to remain in their homes safely.
Help our schools recover from the pandemic (Article III)
Biennial changes for Foundation School Program (2022-2023 total of $53 billion All Funds, $41 billion General Revenue) leave out many important, post-2019 changes in how the state is funding the new school formulas.  
HB 3 turned out to be a lot cheaper — to the state budget, and to General Revenue in particular — in its first two years of implementation, due to the pandemic, local revenue, and federal aid.

 

Originally, the 2019 Legislature appropriated $52 billion All Funds for school formula aid, of which

$42.8 billion

was General Revenue (

Fiscal Size Up 2020-21

, page 212). General Revenue needed for the formulas dropped at least $5.5 billion by January 2021 (replaced by $1.2 billion in federal funding from the Elementary and Secondary School Emergency Relief Fund [ESSER]; other non-GR state revenue, and appropriated recapture). The All Funds cost of the Foundation School Program (FSP) to the state dropped because of higher-than-budgeted local school property tax revenue and pandemic-reduced attendance.

SB 1's funding of school finance formulas does not (yet) address significant attendance decreases caused by COVID-19.

By 2023, budgeted Average Daily Attendance (5.168 million) will still not have recovered to what was originally (in 2019) budgeted for state fiscal year 2021. Federal funds available from ESSER II (December 2020) and ESSER III (March 2021, American Rescue Plan) have not yet been used to address this. Read more from Every Texan on the problems with funding schools through ADA

here.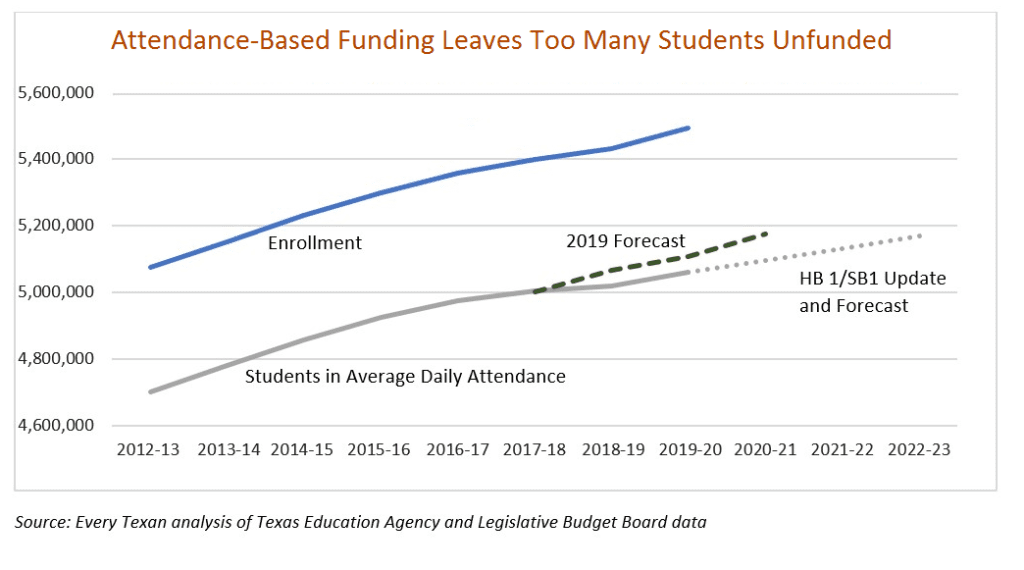 Keep college affordable and invest in our future (Article III)
One critical source of financial support for Texas students is

the need-based financial aid program, TEXAS Grants.

The 5% interim reductions saw General Revenue budgeted for the TEXAS Grants program in 2020-2021 reduced by $43 million ($5 million from 2020 and $38 million from 2021) and the Texas Educational Opportunity Grant (TEOG) Program by $4.8 million — all while students are losing campus jobs and Texas families are seriously impacted by unemployment.

While $57 million in federal aid was

used to offset cuts

to the TEXAS Grant, Texas Equalization Grant (for private universities), and TEOG, these critical grants will need significantly more support to reach eligible students. Even prior to the pandemic, state-funded grants did not serve all eligible students. As economic conditions remain difficult, even more support will be needed.

The Senate proposes

$433 million a year

for the TEXAS grant in 2022-2023, the inadequate, pre-pandemic level. TEXAS Grants would reach about 87,000 students in 2022 and 2023, about 550 fewer than in fiscal 2021.
With the passage of SB 1 comes a responsibility to the state of Texas. We believe that addressing these concerns and implementing these recommendations will bring us closer to a Texas where people of all backgrounds can fulfill their potential and contribute to our community.