Texas Medicaid rules strictly limit which adults can get health coverage, and most adults who can work are ineligible. Most parents whose children get Medicaid cannot get Medicaid themselves (3 million Texas children but fewer than 148,000 parents covered in February 2016). Many Texas adults with serious illnesses and complex chronic conditions (e.g., cancer, MS) do not qualify for Medicaid. Only those who get federal Supplemental Security Income disability benefits can get Medicaid.
These are the adults Texas Medicaid covers today:
Low-income pregnant women (coverage ends 2 months after birth).
Low-income women with Breast or Cervical Cancer (covered during treatment).
Extremely low-income parents caring for children (example: parents in family with 2 children must earn less than $386 per month to get Medicaid coverage).
Former Foster Care Children (coverage from age 19, ends at age 26)
People age 65 and over, and people with disabilities, who are below or near poverty.
Most adults who can work can't get Texas Medicaid. To get SSI disability benefits, an adult must be so incapacitated by health conditions that even the simplest forms of employment are impossible. As long as a person can work even at a very reduced capacity, they will not get SSI disability payments, and in Texas that also means they will not get Medicaid.
This strict limit may be the right choice for determining who gets cash disability benefits. However, it is a disastrous choice for letting adults who want to work be as productive as they possibly can be, and empowering them to be the best parents they possibly can be.
Untreated illness means less work and lower-quality work. Untreated illness also contributes to avoidable and more severe disability, and ultimately higher costs to the taxpayer.
Texas adults with debilitating and chronic illnesses cannot qualify for Medicaid until an individual cannot work or is expected to die. Conditions that don't qualify Texans for Medicaid until full disability or terminal status is reached include cancer; mental illnesses such as schizophrenia, bipolar disorder, major depression and PTSD; and multiple sclerosis, among others.
Here we can see the very small number of adults with mental illness who qualify for Medicaid. Only a fraction of the most gravely impaired Texans with mental illness qualified for comprehensive medical care.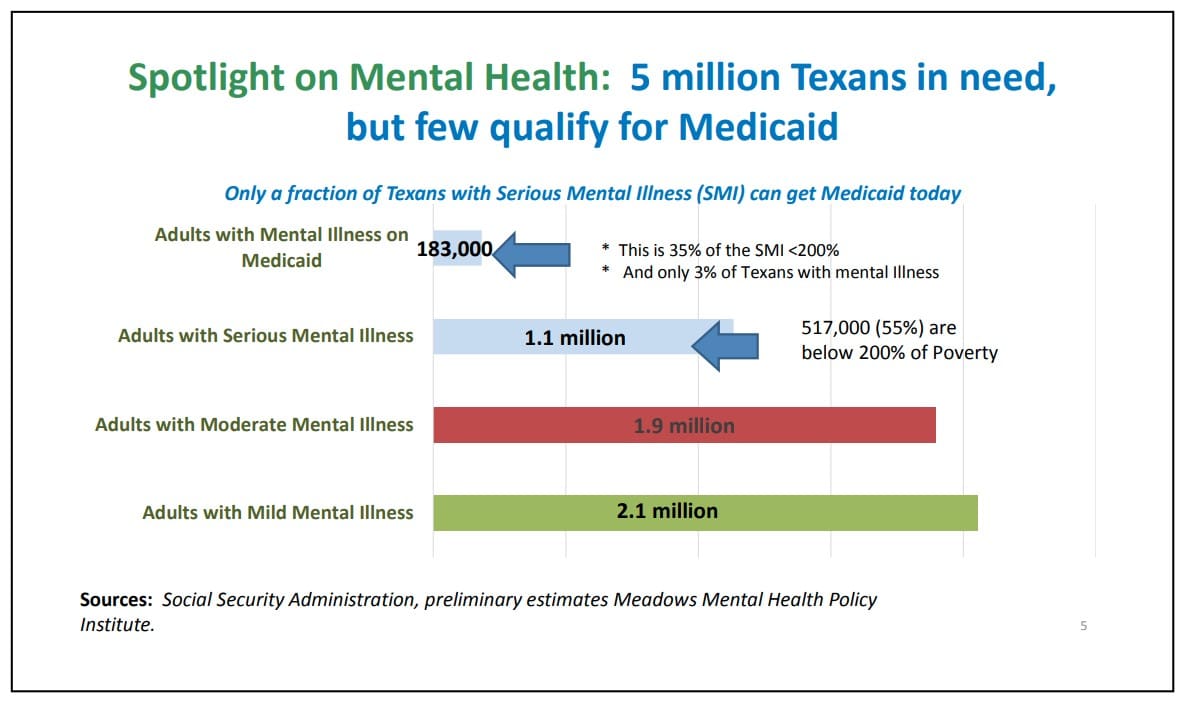 There is a solution. Our state has so many adults with very significant chronic and serious illnesses who do not get Medicaid, but who could be eligible if Texas would expand health care coverage to Texans with incomes below poverty ($24,300 for a family of 4 in 2016) who fall into the "Coverage Gap." They are not currently eligible for Medicaid, and they are also ineligible for Marketplace subsidies for private insurance. A Texas health coverage program to close that gap could improve the lives and futures of hundreds of thousands facing serious illnesses, and save local and state budgets billions in health care spending.
Download Fact Sheet:  Most Texas Adults with Serious and Chronic Illnesses Do Not Qualify for Medicaid